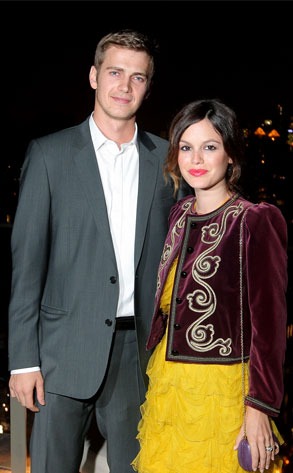 Michael Loccisano/Getty Images
In its uncanny style, accompanied with all the emotion of a Beverly Hills housewife's face, People declared that Rachel Bilson and her hunky ex-boyfriend Hayden Christensen are back together and "dating again," according to an unnamed friend to the former O.C. actor.
People goes on to gush that Bilson and her onetime fiancé Christensen, whose career seems to have taken on a distinctly unblockbuster taint after his Star Wars flicks, "aren't hiding it, either."
This statement was backed up by the fact that Hayden was recently seen leaving Rachel's Los Feliz house. Well, we have unnamed sources, too, girlfriends, and this is what one close to Hayden has to say:
"Yeah, they still talk. They still see each other. But are they back together?" asks the (also handsome) pal to the extremely handsome Canadian actor, "I wouldn't say that, exactly."
So what the hell does that mean, exactly, we pressed.
"Let me just put it this way: In a time when Jake Gyllenhaal is going on ice cream dates, yeah, Rachel and Hayden are back on, and they'll get married, too!"
For real?
At this point, our not-so-tight-lipped Hayden chum got sick of our questions and suddenly zipped it. Hmmm. Did we press too hard?
Or better yet, does anybody really care here? Hey, we love romance and breakup (sex) stories just as much as the next lovesick reporter, but we're just asking!
Anne Hathaway, would you like to start off the discussion? You did so well with Jake.