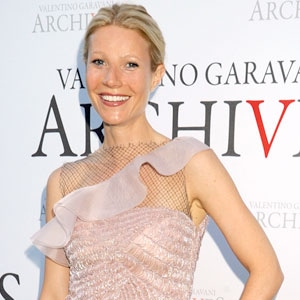 Dave M. Benett/Getty Images
Hear that? It's the sound of Jayma Mays fans everywhere taking off their earrings...Girlfriend, we got yo' back!
Sources confirm that Gwyneth Paltrow will be singing a version of Cee-Lo's "F--k You" also known as "Forget You" on an upcoming episode of Glee, and here's what else we know:
Though no details are out yet on exactly who she's singing to, we do know that Gwyneth will fire up something of a love rectangle/rhombus/square (take your four-sided pick) when she makes her Glee debut on Nov. 16.
"Gwyneth is coming on the show," Ryan Murphy told us. "And even though Emma [Jayma] is with John Stamos' character, when she sees those two it makes her feel jealous. And that sort of launches another big, wrenching love triangle. Gwyneth will come between them, so it's a quadrangle."
Quadrangle..That's the word!
So could Gwyneth become jealous of Jayma and sing "F--k You" to her, or is someone else the culprit?
Gwyneth's "Forget You"/"F--k You" rendition will be part of Glee's fourth volume. You can see the full reported set list--with Britney and Katy Perry goodness--here.
Also, we'll be talking to Jayma very soon. Questions? Are you rooting for Gwyneth or Jayma to score the Schuester?