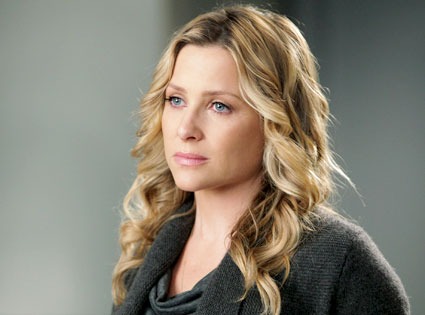 ABC/ADAM TAYLOR
It's the number-one question you TV fans are asking this week:
Grey's Anatomy isn't really shipping off two if its best characters—Callie (Sara Ramirez) and Arizona (Jessica Capshaw)—to Africa, leaving us Calzona-less...Right?!
Dig in for the scoop on that, plus an even more interesting wedding tease, and the latest exclusive dish on Gossip Girl, The Vampire Diaries, Smallville, Sons of Anarchy, Dexter, House and more...
Meadbh: Any more news on a new Office boss?
How come we didn't think of bringing back Jan Levinson!?! We're positively ashamed of ourselves. We just talked to The Office Melora Hardin about filing the manager slot at Dunder Mifflin Scranton, and the recurring Office character told us, "I think Jan would be a fabulous person to fill that role. I was actually very touched when the Hollywood Reporter said that and lumped me together with Kathy Bates and some others..." But for the record, she doesn't know yet. "I'm curious to see who it's going to be, and how it's going to go, and how that's going to change the flavor [of the show]."
Winnie: Tell me they are going to stop making Will Schuester such a tool on Glee!? And tell me John Stamos is sticking around--he stole the show in the Rocky Horror ep last week.
It isn't likely John will become a series regular (Ryan Murphy is still wanting to create a separate show for John), but I'm told the producers are tres happy with him. By the way, John is up for a People's Choice Award and you can vote for him here (once per day if you're really feeling the love). As for Mr. Schue, he was just spotted in some seriously hot short shorts hanging out with Christina Aguilera. [See photo at left.] That's gotta help, right? (Sidenote/true story: I so wanted my curly-headed 1-year-old to be Richard Simmons for Halloween but looked all over and couldn't find baby short shorts. Matthew Morrison is clearly trying to make me jealous. Again.
@TheEvent_TV (via Twitter): What is #TheEvent? If u can't answer that, I guess an answer as to when were gonna find out what the detainees agenda is.
I'm hitting the set tomorrow so consider it asked! If any of you other Event fans have Q's, please email me or tweet me (@kristindsantos). Hint: I'm pretty sure I'd be killed, unkilled and possibly killed again without the antidote if I tell you what The Event is, but anything else is fair game. Also curious, how are you all liking this show? I'm still in.
Trina: Gossip Girl. I keep hearing that Dan and Blair are going to have some kind of romance. Is this true?
They will have a storyline coming up but I have been told is has to do with (helping) Serena, and beyond that, I'm bound and gagged (this handkerchief is no joke) as to what lies ahead for them. In the meantime, please check out the accompanying photo for proof that Blair and Chuck have some serious hotness coming up! (Be careful or you'll scorch your retinas.)
Eric: Caught The Walking Dead premiere last night and it definitely lived up (ha ha!) to all the hype. What about the rest of the season?
It only gets better, my friend—and as we learned from redneck racist Merle (Michael Rooker), the zombies aren't the only baddies on The Walking Dead. Norman Reedus, who plays Merle's equally nasty brother Daryl, told us, "I kind of fight for the other team a little bit"—especially after he sees what happened to Merle on that rooftop in episode three's cliffhanger. (It's even worse than you think.)
@NouraWalan (via Twitter): Cali and Arizona! Tell me they're not leaving!
Don't worry—Callie and Arizona aren't going far. You'll see lots of Sara Ramirez's Callie throughout November sweeps—she even cozies up with Mark Sloan (Eric Dane) in episode eight (see below!). And according to our intel, it looks like she's back to work at the hospital by episode 10, either that, or someone else at Seattle Grace who just got off "leave" is taking over doing minimally invasive hip replacements for the ortho department in that episode. As for Jessica Capshaw's Arizona, I'm told she's set to return to the set "very soon" from her real-life maternity leave, so you won't have to go too long without her. Feel better? Great! Now here's a "cozy" photo to make you worry all over again. Mwahahaha...
Danica: Any juicy Mer-Der dish on Grey's Anatomy?
In episode 11, somebody's getting married on Grey's Anatomy in a rushed, justice-of-the-peace-officiated, city hall wedding ceremony. Could Meredith (Ellen Pompeo) and Derek (Patrick Dempsey) possibly be upgrading their Post-It wedding to legal status? Probably not, but hey, a fan can dream!
Elle: Any Glee dish?
Seems like someone on Glee is either getting or losing a driver's license. Producers are casting for a Ohio Department of Motor Vehicles manager who might be "the most boring man on the planet" and looks something like Coach Graham Lubbock from Growing Pains. (Anybody else remember that guy?) Personally, I'd love to see the demon lady from Reaper make a comeback. Who's with me?
@ doro_bartowski (via Twitter): Here's my Smallville Q. Are we gonna get the 'morning after' scene between Lois And Clark in the opening of 'Ambush'?
Yes!
@Chrisluvstom (via Twitter): I need to know when well see Tom Welling shirtless!
And I need to tell you: Very soon! (See previous answer.)
Randall: Last night's Brothers & Sisters was fantastic. Best yet this season. But I'm still hating the Scotty and Kevin storyline. Why did they make him a cheater?
I'm told some people at the network thought the character of Scotty was "boring" so this was an effort to spice him up. Next time I say try Old Spice! (And that may go down as the lamest joke of the week...But I'm not giving up yet on making up one that's worse.) The good news is that I'm told it won't affect them in the long run. Scotty and Kevin are a "staple" to the show. At least, rumor has it that's the current plan.

Kelly: I'm so mad that Mason's dead on The Vampire Diaries—when will Tyler find out the truth and begin plotting his werewolfy revenge?
Tyler starts getting a clue about what really happened to Uncle Mason in episode 11, when a friend of Mason's comes to town and reveals that Mason is not back in Florida like he's supposed to be.
Jamie: Do things settle down for Batista on Dexter now that LaGuerta got his assault charges dropped?
"Think of the history of Angel Batista," David Zayas (Batista) himself responded when we asked the fiery Dexter star your question at The Walking Dead premiere. "He's been stabbed, he's frequented prostitutes who turned out to be his girlfriend, he's married his boss, he's a survivor. I leave that answer like that."
Mike in Ramona, Calif.: I'm not sure how I feel about Quinn and Deb together on Dexter. What's coming up with that storyline?
Dexter is getting hot and heavy, and it's all because of the full-fledged romance (yep, we used the "R" word!) going on between Deb and Quinn. Things between these two develop quickly, and before you know it, the topic of living together will actually be broached. Hmmm, wonder what Deb will do when she finds out Quinn (aka Doakes 2.0) is going after her big bro in a big way?
Daniel in Chicago: Julia Stiles is great on Dexter. Are we going to keep seeing more of her?
More…and more and more. And it's pretty fantastic stuff. Dexter soon realizes that he and his new "friend" have more in common than he'd originally thought, so he agrees to take Lumen on as his "partner" and even introduces her to little Harrison. But wait, doesn't Harry's Code advise against both things? Better be careful, Dexy-poo…
Peter: Looking forward to the return of Men of a Certain Age—it's one of my favorite cable shows. Any dish on the new season?
This season Scott Bakula's Terry is going to be canoodling with Roswell alum Majandra Delfino, who plays a hot young thang named Stella. So excited to see her back on our TVs.
@JulianaKhanjian (via Twitter): House scoop please!!!
One of the main characters on House is thinking about having a baby! In other news, Amber Tamblyn is great as med student Martha M. Masters—she's not jaded like the House's other diagnosticians, and she argues intelligently about how morality contributes to good medicine, rather than detracts from it. The show's producers should consider keeping her on the team long-term, whether or not Olivia Wilde is there to play Hadley.
Chris in New Orleans: I miss Psych. Any news on what's coming up on the return? Will Jules and Shawn finally get together? Their kiss made me shriek with joy.
If one kiss made you shriek, get ready to bring da noise when Psych returns next Wednesday (Nov. 10). The makeout montage between our star-crossed lovers (real-life couple Maggie Lawson and James Roday) compensates for five seasons of pent-up passion!
Brenda in Los Angeles: It was so nice seeing Ken Jenkins on Cougar Town last week. Reminded me of Scrubs, which I still miss. Will he return?
"He definitely will be back," show runner Kevin Biegel tells us. "I'm not sure if he's going to be coming back this season though, but maybe he will." In fact, it sounds like Kevin and Bill Lawrence would like Ken on C.T. full-time. "He fit in with the cast so well," gushes Kevin. "It felt like a piece of the show was missing that we finally had when he showed up on set."
Nell in Australia: I am losing my mind here. First Jax screws that porn slut Ima, and now he's making time with his hot, barely-legal half-sister?! What the hell is going on with Sons of Anarchy?!
Relax! We're pretty sure what looks like Jax and Trinity flirting is just them subconsciously recognizing the connection and genuinely liking each other as human beings. (We'd hate to think that Sons of Anarchy was actually all about Jax despoiling John Teller's cute strawberry-blond love child with incestuous sex. There's so many more interesting directions to take the destruction.) For our part, we positively cannot wait until either Gemma or Maureen disclose the blood relationship to those kids, because we're dying to see what happens when Jax finds out that he's somebody's big brother (again) and that there's another person in the world who needs to know the truth about the great and terrible John Teller as much as he does.
Kelly: So sad that Medium is probably winding down. I love that show. Any scoop on the final few episodes?
Amazing news! Superawesome Ryan Hurst (who plays superawesome Opie on Sons of Anarchy) is back on Medium as Allison's brother Michael "Lucky" Benoit for ep 11—we're so glad to hear they were able to get him back for one before visit before the show signs off! In the episode, which is called "Only Half Lucky," Michael, who can never quite catch a break, is semi-possessed by a dead guy with a killer sales pitch…
Marc: Thanks for the scoop on Teddy! When will he come out on 90210?
Teddy has a big episode on Nov. 15, but I'm told he won't come out until next year, meaning some time in 2011.
Jennifer: Anything good coming up on 90210?
And how. Naomi and Silver's troubles with Mr. Cannon are nowhere near over, but things will come to a near fatal end around the middle of the season. We'll also see a very different side to Ivy when her very conservative father reappears in town. And one last thing: That girl who takes a major Single White Female-type liking to Annie will also take a huge liking to Annie's man Liam. Dun-dun-dun.
Athena: I love Make It or Break It! Any dish?
Someone's life-threatening medical condition has recurred, and she won't be able to compete until her latest treatment is complete. Ruh-roh…
Greg: Modern Family!
Mitchell and Cam soon find themselves crushing on the same man! Don't worry, all is well with the twosome, but when the find a sexy stranger using their hot tub, we'll see some of their grade A flirting skills resurface—or lack thereof. By the way, old news now, but Modern Family's Halloween episode was hands down the best episode of any comedy all season long. Fact: My Brazilian husband says about half of those Gloria-isms, including constantly remarking how "volumptiuous" Sofia Vergara is...and nearly called 911 when he saw me convulsing on the floor in hysterics.
Trevor: I miss Parks and Recreation. Anyone else feeling some separation anxiety?
We are! We are! But luckily, whenever Parks and Recreation returns, there is a whole lot of funny to be had. Like the gang going camping and the lodge not serving the kind of breakfast food (sausage and bacon) integral to Ron Swanson's diet. Or a carnival coming to Pawnee and a sexy carnie hitting on Ann. All good things. Now NBC, let's get this gem back on the air!
Simone: Boardwalk Empire keeps getting better. Spill!
Next week Nucky's ex-tootsie Lucy (Paz de la Huerta) makes a scene in public with Mrs. Schroeder (Kelly Macdonald). Guess which fierce bitch wins the fight? In other news, creepy fed Van Alden (Michael Shannon) is revealed to be an awful husband (shocker!), someone very close to Nucky gets gut-shot, and an imbecile is nominated to the Presidency of the United States.
Teresa: I kinda love Mayim Bialik's Amy on The Big Bang Theory—is she sticking around once Kaley Cuoco comes back after her accident?
Yes, definitely! In fact, we hear they just taped an episode of The Big Bang Theory where polar opposites Penny and Amy are forced to spend some time together. We're gonna go far out on a limb here and predict that hilary ensues.
Trista: Is Señor Chang going to go crazy and kill everyone on Community during sweeps?
Maybe? We just talked to Ken Jeong at the Due Date premiere, and it seems like that alter ego bit might have just been a one-time thing. Jeong told us about his character's dark side, "Gollum Chang is what I'm known for in the season premiere, because I had the good and evil Chang, but I think this year I'm just Chang. [I used to be known as] Señor Chang, but the front of my trailer just says Chang. So I've become a one-word entity like Cher and Madonna, and I'm getting bigger."
Jeffrey: Community is on a roll this season. What's coming up?
A secret garden. No, really. As Joel McHale puts it, "Troy [Donald Glover] and Jeff discover a secret garden. And there's a trampoline that's been basically held over from before litigation removed every single diving board, trampoline, high dive ever. And it takes us to a new place of understanding and peace. Plus Pierce wants in on it." And once Pierce hones his way in on the fun, he may or may not end up with two leg casts...
Gabby: You talk about Life Unexpected a lot, but never about Tasha. Is she in any good storylines coming up?
Lux's bestie Tasha is headed to some pretty dark places in the next few weeks. We can't say much about it yet, but a scary, physical confrontation with an older guy is involved. Also, no official word yet on the show's fate. Keep praying...or hoping...or crossing your fingers and toes or whatever it is you do.
@H50net: Hawaii Five-0 scoop, PLEASE? :)
The episode that I was on set for airs tonight on CBS! Here are the rest of my interviews with Alex O'Loughlin and Daniel Dae Kim...
—Additional reporting by Jennifer Arrow, Megan Masters, Drusilla Moorhouse and Christina Dowling