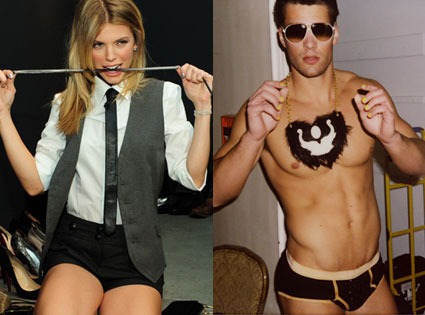 Courtesy of StarTraks, Jeremy Kost/WireImage
AnnaLynne McCord and Kellan Lutz are officially over, and one of them certainly wasted no time moving on!
The 90210 babe was in Vegas celebrating Halloween, and she debuted a new man on her arm, model Aaron O'Connell.
So what went wrong with the half Twilight duo?
"I don't know who broke up with who, but Kellan was really controlling with her," says a source close to AnnaLynne. "She's definitely over it and with Aaron now."
The mole says McCord is "totally over" Lutz and completely "smitten" with her new boy-toy.
The two were spotted holding hands and cuddling at LAVO in the Palazzo hotel Saturday night at the Veuve Clicquot's Yelloween party.
Our insider dishes that McCord, dressed as the White Queen from Alice in Wonderland, and O'Connell, sporting a pilot's outfit, have been friends for a while and only recently became romantic.
An eyewitness to the cuddlefest 'fesses AnnaLynne and Aaron danced the night away with McCord's sister Angel and other friends. At one point, McCord playfully swiped O'Connell's pilot hat and posed for pictures in it.
Before the party Saturday, the couple had dinner in LAVO's private dining room, where they enjoyed Kobe meatballs, chicken marsala, bolognese and champagne.
The two were first spotted together about two weeks ago at an event supporting St. Bernard Project Pictures, a charity close to McCord's heart.
While AnnaLynne was smooching and partying in Vegas, Lutz spent his Halloween weekend in Atlantic City, N.J., hanging out with Samantha Ronson at the Borgata Hotel and Casino before making a pit stop in L.A. last night.
"Distance was a factor in the break up too," a source close to Kellan tells us, also confirming the split. "He's going to be away for the next several months while AnnaLynne will be in L.A." Breaking Dawn is set to start filming this week in Louisiana.
Just last Thursday Kellan was tweeting this about love:
kellanlutz Being deeply loved by someone gives you STRENGHT; loving someone deeply gives you COURAGE!!!!!!!!!!!!!!! ( ;
kellanlutz LOVE is like playing the piano. 1st u must learn 2 play by the RULES, then u must 4get the rules & play 4rm ur HEART!!!!!!!!!!!! :)
Guess he wasn't talking about AnnaLynne?
So what do you guys think of the breakup news? Sad? Happy that Kellan's free? Glad it's not Robsten? Chime in below!