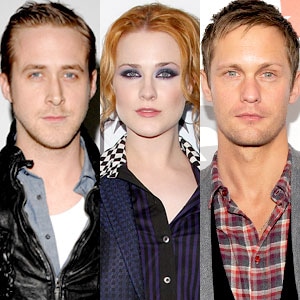 AP Photo/ PeterKramer; Andrew H. Walker/Getty Images; AP Photo/Chris Pizzello
Were they or weren't they?
Rumors swirled last year that True Blood costars Alexander Skarsgård and Evan Rachel Wood were sinking their teeth into each other off-camera when they were spotted hanging out off-set.
Neither of the actors ever confirmed it. Until now...sorta.
We chatted with Wood at last night's Rocky Horror Picture Show tribute benefit for the Painted Turtle in L.A. about the very successful love lives of the show's cast.
"God, that set is just a lovefest over there," she told us. "I've even been there myself. I did date one of the castmembers already."
But that's in the past. Now, she has another costar to think about. He's not someone on True Blood, but a young hottie in The Ides of March, a political drama directed by George Clooney.
"My character gets herself into a bit of a predicament with one of the politicians, and she's also Ryan Gosling's love interest," Wood said. "I'm very excited [because] I've had a total crush on him forever. It's going to be amazing!"
As for working with Clooney, who's notorious for pulling pranks on his costars, Wood said, "I'm excited for the practical jokes...Bring it on!"
Careful what ya wish for, Evan.