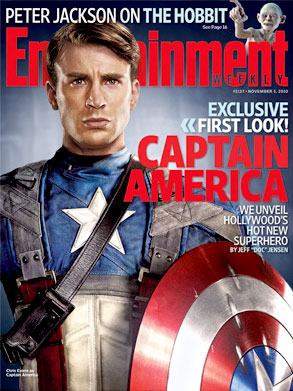 EW
Behold, America, your captain has arrived.
After months of secrecy, we're finally getting our first shot of Chris Evans decked out in full Captain America garb, shield included.
The film's London set has been tough to crack, but now Entertainment Weekly is revealing this official look at our red, white and blue hero.
It's funny to think that Evans originally turned down the role not once, not twice, but three times before Marvel's team and director Joe Johnston persuaded him to suit up for the superhero flick. Even though he'd previously worked the comic genre as the Human Torch in The Fantastic Four, Evans had reservations about taking the leap toward leading man status.
"I was just scared," he told the mag. "I realized my whole decision making process was fear based, and you never want to make a decision out of fear." Definitely a good decision, Chris.
Captain America hits theaters July 22. What do you think of this superhero fashion statement? Hit the comments!