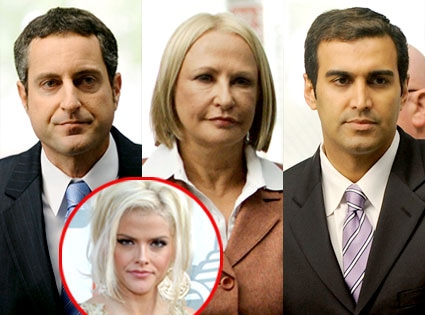 Kevork Djansezian/Getty Images; Danny Moloshok / Reuters; Kevork Djansezian/Getty Images; Ning Chiu/ZUMApress.com
Anna Nicole Smith's doctor is in the clear. And yes, that's doctor, singular.
After 13 days of deliberations, the jury in the late star's drug conspiracy trial returned a verdict this afternoon and Dr. Sandeep Kapoorwas the only defendant cleared of all six charges against him.
Psychiatrist Khristine Eroshevich and Smith's attorney/confidant/sometime lover Howard K. Stern did not get off so easy.
Stern was cleared on seven counts but convicted of two felony charges of conspiring to use fake names and false pretenses to score prescriptions.
"In other words, everything related to the appropriateness of the medication, I was acquitted of," Stern said in a brief statement to the press after court.
"What the jury did find me guilty of," he said, "were two conspiracy counts limited exclusively to my name being used on medication for Anna. Now, this was done to protect Anna Nicole's privacy and it was nothing more than that."
The jury was similarly divided when it came to Eroshevich's fate.
She was found guilty of four counts against her—two for conspiracy and two for charges of prescribing and furnishing sedatives and opiates to an addict. The jury deadlocked on two charges of unlawfully prescribing a controlled substance and prescribing controlled substances to an addict.
"Both defendants are looking at possible maximum of at least three years in state prison," said D.A. spokeswoman Sandi Gibbons.
Criminal law expert Alec Ross, who is not involved in the case, expects Stern will only get probation considering his clean record. Plus, Ross says, he expects that the verdict (the guilty parts, anyway) will be appealed.
"There will be further proceedings in that courtroom," Stern told camera-toting reporters as he left the building.
Sentencing is currently scheduled for Jan. 6.
"I don't think I did anything wrong. I don't have any regrets...[Anna Nicole] had legitimate problems, had legitimate pain," a visibly shaken Eroshevich told E! News. "I'm hoping for a compassionate sentence."
But, "I'm just happy this is over," she added.
Kapoor, on the other hand, was positively beaming. "I feel surreal, elated, shell-shocked," he said. "It's been almost four years...with the support of my patients, family, we made it through."
All three were charged with conspiracy, excessive prescribing of opiates and sedatives to an addict, and fraudulently obtaining drugs by using false names. All three had pleaded not guilty to the charges.
During deliberations on Wednesday, the stymied jury submitted several questions to the judge, including a query about what they should do if they were "unable to come to a verdict on a count or an object crime."
"If you can't reach a verdict, you can't reach a verdict," replied L.A. Superior Court Judge Robert J. Perry, who had expressed his concerns about the prosecution's case throughout the trial. He commented at one point that the D.A.'s Office seemed to have thrown a laundry list of convoluted charges at the defendants just to see what would stick.
The defense team never offered up any witnesses, instead arguing that the prosecution hadn't proved its case. Attorneys said that Stern, Eroshevich and Kapoor were not facilitating a drug addict, but rather trying to ease Smith's physical and emotional pain to the best of their ability.
Perry also reminded the six-man, six-woman panel to consider each charge separately. The jury also had one question a day after they started deliberating: Would Stern's guilt when it came to two charges of illegally prescribing a substance depend on whether or not they found Eroshevich and Kapoor guilty of the same thing?
Yes, it would, said stand-in Judge Larry Paul Fidler, who was filling in at the time while Perry was on vacation. 
"Should you find Dr. Kapoor or Dr. Eroshevich not guilty on either of these counts, then you should find defendant Stern not guilty on that count," Fidler instructed.
Stern was originally charged with 11 felony counts, but Perry acquitted him of fraudulently obtaining a prescription for methadone and Dilaudid and obtaining prescriptions for the two drugs by giving a false name before final arguments were heard.