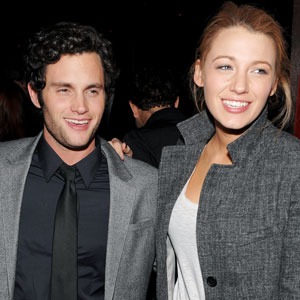 Dimitrios Kambouris/Getty Images
So does this explain her Disneyland excursion with Ryan Gosling?
Blake Lively and Penn Badgley are confirming they've broken up, just weeks after E! News published exclusive pics of Lively hanging out in the Happiest Place on Earth with another guy.
But don't blame Gosling for breaking up Gossip Girl's cutie couple. Here's the scoop.
Back during New York Fashion Week in September, Badgley told us he wasn't front-row-sitting and party-hopping with his gorgeous gal-pal because he wanted to let her shine solo.
Well, that's exactly what Lively continued to do, with the good-looking duo splitting right after, a rep for both confirms to E! News.
"They are not together," one insider says of the couple, who had been together for three years.
But there were signs of trouble even earlier.
A source who lives in Badgley's West Village apartment building in New York tells E! News that the once inseparable duo have not been together in weeks.
"I have not seen Blake in a long time, since early fall," says the neighbor. "Penn was working out every day downstairs and she'd come in with a big bag and stay all the time, she was always here. But no more. I haven't seen him in the gym in a while either."
The once PDA-crazy couple seem to have drifted apart while Penn was promoting Easy A in L.A. and Blake was hyping The Town on the East Coast—and the two haven't been spotted together off the G.G. set in months now.
That means the two had called it quits by the time Lively and Gosling were spotted hanging late into the night at Disneyland earlier this month, as originally reported by the Awful Truth. (Curiously, while Lively and Gosling posed for pics with fans, they refused to be photographed together. Hmmm...)
As for Lively and Badgley, word is they've broken up on the down-low in the past and gotten back together, but this time it looks like it may be for good.