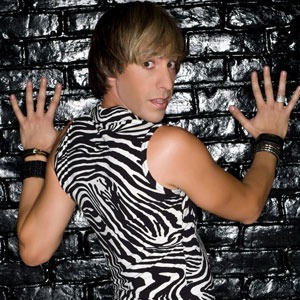 Universal
UPDATE: Mike Skiff later dropped the suit, his lawyer stating in the motion for dismissal that the legal battle became "too difficult for the Plaintiff to deal with."
_____________________________
It's old news that Sacha Baron Cohen has offended people over the years with his Borat and Brüno characters.
But a cameraman who encountered Cohen's fey fashionista at a Prop 8 demonstration back in 2008 claims that the Brüno crew had him fearing for his life.
Mike Skiff is suing Cohen for assault, battery and inciting a riot, claiming that he was shooting footage of an L.A. event that included folks who were both for and against legalizing gay marriage, when along came so-called Brüno Productions—members of whom were toting "Yes on 8" (no on legalization) signs "to promote violent discord between the assembled 'yes' and 'no' factions," Skiff's lawsuit states.
With the production crew looking to make a scene, Skiff alleges that he was "shoved, pulled and wrestled in a vicious and blatant attempt" to keep him from filming the event, all the while fearing that he would be "clubbed with wooden signs."
Skiff further claims in court documents filed today that, as a gay man, he has the right to go about his business free from violence and intimidation directed at his sexual orientation.
Which is something that Brüno probably meant to point out by making the "Yes on 8" people look ridiculous, but, as anybody who saw the movie knows, Cohen tended to stray far afield from any coherent point.
Skiff is seeking at least $25,000 in punitive damages, as well as reimbursement for medical expenses and general damages.