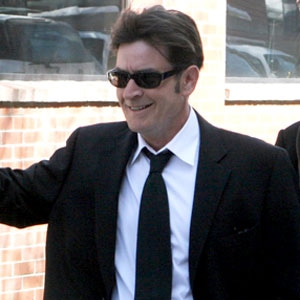 INFdaily.com
Considering he didn't get much sleep in his hotel room last night, it makes sense that Charlie Sheen would want to sleep in his own bed tonight.
The actor is out of the hospital and on a private jet en route from New York to Los Angeles—and contrary to a report that he's planning to return to rehab at Promises in Malibu, that's not on his immediate agenda and he will likely just head home upon his arrival, a source close to the star confirms exclusively to E! News.
Not that there isn't the possibility of treatment in his future.
"There are a number of things in Charlie's business schedule obligated for him to comply with," the source says. "Promises, shooting a movie and getting back to work on the show are not all mutually exclusive."
The show being the ever supportive Two and a Half Men, of course, and the movie being She Wants Me!, starring Hilary Duff and featuring Sheen as a version of himself.
The real version of Sheen must be glad that he's not facing any legal fallout from what his rep characterized as an "adverse reaction" to a medication. He was hospitalized early this morning in Manhattan after police were called to his hotel room and found him in need of immediate medical attention.
"We know that at 1:30 this morning there was a call by Plaza Hotel security of a disorderly man in a room where furniture was being broken," NYPD Commissioner Ray Kelly said at a press conference this afternoon.
"Police responded and Mr. Sheen was taken to New York Presbyterian Hospital. No arrests were made. No one was willing to sign a complaint so he [was] being treated at the hospital."
Ex-wife Denise Richards, who was staying in a different room at the hotel with their daughters Sam and Lola, revealed tonight that she "did help him at the hospital."
And, she said on The Joy Behar Show tonight, she knows what really happened—but will leave it up to Charlie to talk about it.
"My daughters are 5 and 6 years old," Richards said. "They're at an age where they can start to understand, they have no idea what went on. And our stuff happened when they were much younger, which I'm so grateful for.
"[Charlie and I are] in an amazing place, we've been getting along great for the last year and a half and, you know, we're doing our best...So as far as that situation, I'm trying to protect the girls as much as possible."
Sheen has been on probation since pleading guilty to domestic violence in August and, until Nov. 2, is under court order to not drink too much, stay away from drugs and only take the prescriped dose of any medication—or else face jail time.
He also spent 30 days at Promises after making the deal.
But as for what the actor needs now in the way of R&R, our source says that as far as rehab goes, "It isn't that kind of a situation."
"Charlie Sheen has been discharged from a hospital in N.Y. and is returning to L.A. today," rep Stan Rosenfield said. "Everything else is speculation."
(Originally published Oct. 26, 2010, at 3:51 p.m. PT)