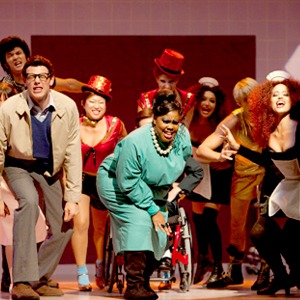 Adam Rose/FOX
We know last week might have been hard for Gleeks across the nation. What with a rerun and no Glee-Dux! But tonight, Glee didn't just return to our television. It kind of exploded right into our faces. And thank Sue that it did...
Emma, What Have You Become? Because we love it! We never thought we'd see the day where our redheaded germaphobe would be having fun in a dirty theater surrounded by people throwing stuff around. But the day has arrived. Do we have her new love Carl to thank? Is he really changing her? Or is Emma simply evolving as TV characters often do? Whatever the case, the new Emma is making Will awfully dead set on winning her back. Which is good news for all those in the "Wemma" camp with their clean and curly flags flying high!
We're Waiting for Body by Sam: After all, there ain't no carpool lane to sexy. Then again, we love doughnuts and hot dogs, so never mind. We'll let the likes of Chord Overstreet and Cory Monteith do the work and we'll enjoy the benefits. Also, Chord in tiny gold shorts: an upgrade from a towel. Never thought that'd be possible. Ab-ulous.
Carl's In Trouble: If that friggin' awesome "Toucha Toucha Touch Me" number told us anything, it's that there is no mistaking that Emma and Will have some serious heat between them. It also told us that Matt Morrison loves his sit-ups. And for that, we say thank-you. However, Matt's six-pack aside (unfortunately), Jayma Mays was the real shining star. She slaughtered that number! So. How many times did you rewind that bundle of Will-Emma hotness?
We Need More Sue's Corner: This episode marked the first time we've seen Sue's Corner since…we can't even remember! We just aren't informed the way we should be without Sue letting us know how she sees it. And where can we get her pumpkin carving stencil? We want our own Sue-o'-lantern.
This Was More Than a Tribute Episode: Critics of Glee and their tribute episodes (Gaga, Britney, Madonna) will say that those particular ones lack plot and story and focus solely on dazzling musical numbers. "Rocky" seemed to be more story-driven than simply music driven, letting our characters shine more than just in song and dance. We love to see Glee find the plot/music combos that really work. Not that Glee doesn't work those dazzling musical numbers. Hello?! How about that "Time Warp" performance?
We Love Us Some Will-Carl Fighting: Not only were we superexcited to see John Stamos bust out his vocal skills, but we finally got some real head butting between Will and Carl. Ryan Murphy, if you love us (and we know you do), you'll give us more throwdowns between the two Emma-lovers. We'll just forget that heartbreaking final scene where Will waves the white flag "for now," m'kay?
There Is Nothing Amber Riley Doesn't Kill: See "Sweet Transvestite," plus pretty much any other number she's ever done. Giving Mercedes a solo is never a bad thing.
WHAT LIES AHEAD
Meet The New Gleek: We recently had the privilege of chatting with Darren Criss, who is your soon-to-be favorite new face on television. He is darling, and we can't wait for you to meet him. Check back tomorrow for our exclusive interview with Darren, and start on your couple names for Blaine and Kurt, if you wish. We like Burt.
Lots o' Returns: Darren's debut episode also marks the return of Sunshine (Charice), Coach Beiste (Dot Jones) and the dearly missed Puck. We assume that the return of Sunshine means we will also see more of the new Vocal Adrenaline coach, played by the one and only Cheyenne Jackson. And if that picture tells us anything, it looks like Puck's return also gives us a Motown number. It's important to note that this episode is called "Never Been Kissed," and rumor has it, a game of spin the bottle might be happening.
Come Back Puck: There is one will-he/won't-he return that has been the source of speculation: Mark Salling. Be it because of backstage drama or conflicts with Mark's solo album, our beloved Puck has been noticeably absent. And it's time to set the record straight on whether he's being ousted or not. Thankfully, we checked in with a high-ranking source who works on the show, and we needn't worry anymore. "Mark is fine, and on the show," says the source. "Secure. A series regular, like before." Insiders confirm that there have been some issues (both contractual and otherwise) regarding Mark's music career and his Glee commitments, but we're told everything is being worked out. Puck/Mark will be back in the next new episode.
Glee Flashback Preview: Also, we know that Glee will be doing a flashback episode that takes us back to the childhood of the members of New Directions. The mini-Rachel Berry will be played by Lauren Boles, and her IMDB page has the cutest picture of her and Lea Michele! As for mini-Finn, Jake Vaughn and his adorable smile will be playing the younger version of Rachel's one and only. And for you die-hard Finchel fans, Star-kidz.net has a picture of young Finn and young Rachel together. Très precious! That episode is set for Nov. 16.
'Tis the Season: And by now you also know that our Glee gang will be releasing a Christmas album, which you can pre-order right here! Best. Stocking stuffer. Ever. That will surely make your holidays all the more cheery. Especially when you see that Chris and Darren have a cute little duet that hopefully comes straight from the Christmas-themed episode of Glee, which airs Dec. 7. Can't wait that long? Sneak a peek of "Last Christmas" by Lea and Cory. Happy early holidays indeed!
How did you die-hard Rocky fans enjoy tonight's episode? Any hits? Misses? Anxious for the November 9 episode that is packed with returns and debuts? Let us know in the comments. We're all ears!