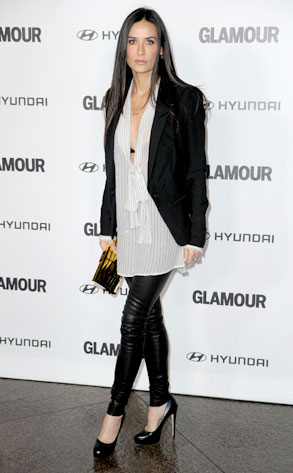 Frazer Harrison/Getty Images
Demi Moore—looking fab in a sheer tunic, tight leather pants, and black pumps—stepped out at last night's Glamour Reel Moments event in Hollywood (where Jessica Biel sans BF, Rachel Weisz, and Eva Mendes each debuted a short flick they directed).
And she let her jaw-dropping chic looks do the talking.
'Cause the babe skipped down the red carpet, hugging her gal pals and staying silent on all things Ashton—ya know, dodging all those nasty rumors the tabs are spreading about the married duo.
Can't say we blame her. Especially since she was classy enough to keep her Kutcher-kissing trap closed about another gal taking the tabloid heat: