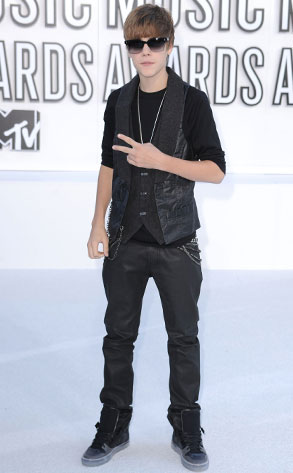 Steve Granitz/WireImage.com
Is Justin Bieber really coming out with a fragrance line?
You better belieb it.
But the 16-year-old pop star's new scent—called My World, of course—won't come bottled like most celebrity fragrances. There's a twist...
According to Women's Wear Daily, the unisex scent will be infused into dog tags and wristbands. Ooh, twisty! The line of accessories will be sold at Walmart beginning on Black Friday, just in time for the holidays.
The Bieb tells the fashion site what not to expect from his latest product: "They actually brought me a bunch of stuff to smell today. One of them smelled too young, too fruity. One was really good."
Uh-oh. Girls, throw your pear and passion-fruit fragrances away.
And the singer reveals one of his favorite celeb scents: "I actually like the Britney Spears perfume on girls. It smells good."
OK, cool, that's helpful.
So will you be rocking My World dog tags—along with J.B.'s nail polish while sleeping in between his sheets?