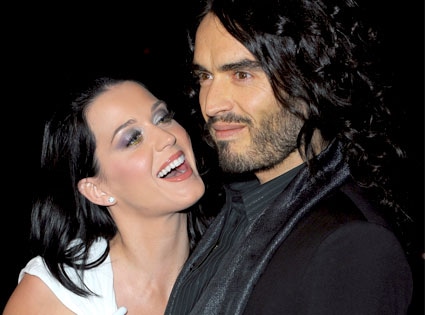 Jason Merritt/Getty Images
Katy Perry just kissed her husband, and we presume she liked it.
The pop star and British envelope-pusher Russell Brand swapped vows Saturday in a rather grand ceremony, E! News has confirmed.
The nuptials were held at Ranthambore Sanctuary, India, near the spot where the quirky couple got engaged on New Year's Eve.
"Russell Brand and Katy Perry are overjoyed to confirm that they were pronounced Mr. and Mrs. Brand on Saturday, October 23," a rep for the newlyweds said in a statement to E! News. "The very private and spiritual ceremony, attended by the couples' closest family and friends was performed by a Christian minister and longtime friend of the Hudson Family. The backdrop was the inspirational and majestic countryside of Northern India."
While details are scarce on the über-couple's wedding, hotel employees were seen adorning bird cages with flowers earlier in the day. Media stationed outside of the wedding also reported that the sounds of Indian instruments and songs from Rajasthani folk musicians could be heard from outside of the resort.
Perry's good pal Rihanna was on the 85-strong guest list, though a source tells E! News the fellow pop star was unable to make the ceremony due to work commitments.  Brand's mum and Perry's parents, who flew from Mumbai to Jaipur with the couple on Wednesday, had no such conflicts and were very much in attendance.
Prior to the big day, a bazaar was set up outside Ranthambore on Thursday—a custom in India—so that guests could pick out saris, jewelry and other Indian objects to set the tone for the impending nuptials. That night, the guests sipped cocktails by the resort's pool, nibbled on Indian food and enjoyed a performance by 40 folk musicians and dancers.
Friday night, the couple participated in a traditional mehndi ceremony, during which the bride's hands, arms and feet are painted with henna.
Only the in-crowd was informed of the marital plans ahead of time so that they could take care of visa and passport paperwork.
To discourage the haters (or the trigger-happy media) out there, Perry tweeted on Tuesday: "TWIT BREAK: Greatest gift u can give us is respect & ♥ during this private X. No use wasting ur X w/ STOLEN or FALSE info. Thnku for this."
A Fort Knoxian perimeter was also set up around the wedding venue.
But as he's proved in the past, Brand is always ready to take care of business when anyone tries to rain on their love parade.
Brand took a group from the wedding party on a little prenuptial safari Friday at the Ranthambhore National Park, where they were diligently tailed by a jeep ferrying photogaphers from the Associated Press, Reuters and other real-deal news outlets.
The pleasure-seekers were motoring along when two of Brand's security guards allegedly went wild on the reporters and their driver.
The cameramen claim the actor's muscle swiped their keys, leaving them stranded in the wild-life sanctuary. Park rangers ultimately got their hands on the keys and returned them to the stunned shutterbugs, who later filed a complaint against the guards and Brand.
But hey, no one was killed!
Perry and Brand were officially outed as an item not long after the 2009 MTV Video Music Awards and have stuck by each other through thick and thin, Sesame Street evictions and airport arrests, ever since.
Last Sunday, Brand tweeted this: "@katyperry YOU'RE A HACKER, A BAD WIFE AND YOUR NATURAL HAIR COLOUR IS GINGER. There's not enough dye in the world to rinse away the lie." That message came a few minutes after Brand seemingly tweeted, "My farts smell."
Here's hoping their marriage holds up under the weight of all that whimsy.
(Originally published Oct. 23, 2010, at 9:45 a.m. PT)