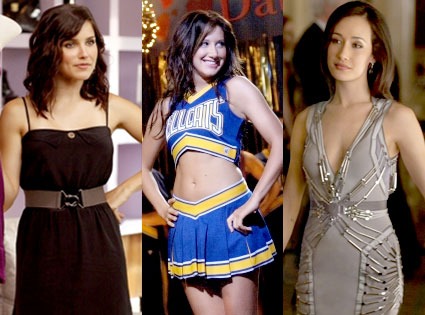 Fred Norris /The CW; Sergei Bachlakov/The CW; Ben Mark Holzberg/The CW
Congrats! Veteran soap One Tree Hill and newbies Nikita and Hellcats have all gotten back-nine orders from the See-Dub. Little sophomore series Life Unexpected remains in limbo. (You win some, you lose some...)
Read on for more TV news, including pointers to new footage from 16 and Pregnant, which returns next week. Whee!
• TLC Is TV Crack: According to the Live Feed, we're not done with TLC's Sister Wives yet. Kody Brown, aka No. 2 on our list of Reality TV Stars We're Really Hating Right Now, and his harem will be featured on an one-hour interview special, set to air Oct. 31 on TLC.
• Cylon Babies! In addition to the Caprica series, Syfy has now ordered a two-hour Battlestar Galactica prequel pilot called Blood & Chrome. B&C is set back in the day, when future Admiral Bill Adama was a young hottie just getting his wings.
• 16 and Pregnant: There are five sneak peeks up at MTV.com. The new eps begin airing next Tuesday. We are so excited.
Are you guys delighted about the pickups of One Tree Hill and Nikita? What do you think of Hellcats? Hit the comments!