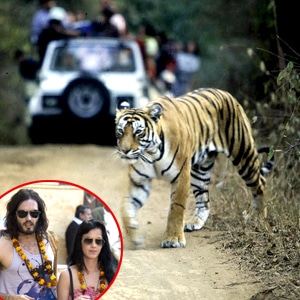 ADITYA SINGH/AFP/Getty Images; Barcroft/Fame Pictures
UPDATE: Not exactly the way to start building a life together.
Ranthambhore police said in a statement: "The photographers have filed an official complaint of assault and all witnesses, including Mr. Brand, will be questioned about this. Police officers will be going to the hotel tomorrow to advise the alleged perpetrators of an arrest and that a case has been filed. It is certainly not a good thing because an Indian photographer has been beaten up in his own country by a foreigner. The photographer would like an apology and if the perpetrator is willing to apologize then we can take back the case."
_________________
The last time Russell Brand went off on a photographer, it was just a scuffle.
This time, though, the funnyman is being accused of almost making tiger treats out of some intrepid shooters.
No joke.
News photogs (and we're not talking run-of-the-mill paparazzi but shooters for such legitimate outlets as the Associated Press, Reuters, Agence France-Press and the Hindustan Times) were tailing the soon-to-be-hitched twosome when they claim Brand's bodyguards attacked and left the shutterbugs stranded in a tiger sanctuary.
The photographers say they were in a Jeep following about 330 feet behind a two-vehicle motorcade shuttling members of the Brand-Perry party around Ranthambhore National Park.
At that point, per the photogs, two of the actor's security goons jumped out and began slugging away at the shooters and their driver. The cameramen claim their car keys were subsequently swiped by the bodyguards, essentially leaving them for mincemeat in tiger country.
According to AP snapper Mustafa Quraishi, Brand watched it all go down.
Quraishi says he hopped out of the Jeep to try get the keys back, but was punched repeatedly by a bodyguard, leaving him with a cut on his arm, smashed glasses and a broken camera. As his buddies came to to Quraishi's aid, he says they were also clobbered, with one bleeding from the head.
And we all know that tigers love blood. So do leopards, wild boars, hyenas and sloth bears, which all live in the park.
Mercifully, some park rangers eventually got the keys back from the guards and got the photogs—before the animals did.
(Originally published Oct. 22, 2010, at 10:45 a.m. PT)
No word yet on if charges will be pressed. Brand and Perry are scheduled to be married tomorrow, and have been super tight about security in the days leading up to the ceremony. 
"They made guests not part of the wedding party, hotel staff included, vacate the premises," a hotel source told E! News on Thursday. "The local authorities announced that no cameraperson can come within one kilometer" of the palace where they plan to wed.
Brand and Perry haven't exactly endeared themselves to photographers, with Brand getting busted last month for attacking a paparazzo who tried to take pictures of his ladylove at LAX. Assault charges are still pending.
And upon their arrival earlier this week in India for their six-day wedding junket, Perry tweeted:
"TWIT BREAK: Greatest gift u can give us is respect & ♥ during this private X," she wrote. "No use wasting ur X w/ STOLEN or FALSE info. Thnku for this."
But their pleas might be motivated by more than just a desire for privacy.
Although Brand swore that he and his betrothed weren't going to sell their wedding pics during an appearance last week on Howard Stern's radio show, the AP is reporting that the twosome did indeed sell the exclusive rights their extravaganza to an unnamed London magazine.
Brand's management has denied to E! News any wedding deals with a London mag.