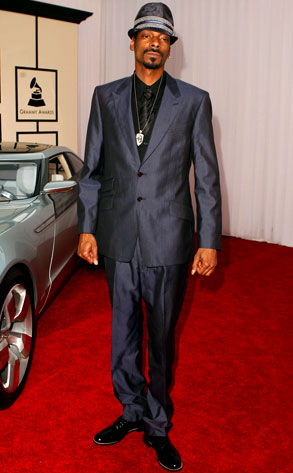 Jeff Vespa/WireImage.com
Maybe Snoop Dogg should've popped for the pine-tree air freshener.
Two members of rapper's entourage were busted for marijuana possession Thursday in Texas after state troopers smelled pot during a routine traffic stop, E! News confirms.
The identifies of the men were not provided, but we know that their ringmaster was not involved.
"Snoop was not arrested," his manager, Constance Schwartz, told E! News. "Snoop continues to enjoy touring with 311 on the Unity Tour."
Authorities said that officers pulled the bus over on Route 45 in Corsicana, where the group was on its way from Houston to Dallas, for possibly having expired registration. They then detected an "odor of marijuana."
According to a Texas State Troopers spokesman, the search turned up two ounces of pot and the two alleged offenders admitted it belonged to them.
They were taken to the nearby Navarro County Jail and booked on charges of misdemeanor possession.
The busful of people, Snoop included, was allowed to continue on its way.
—Reporting by Whitney English