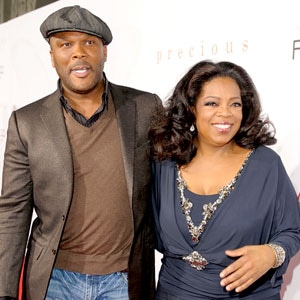 Kevin Winter/Getty Images
Tyler Perry unloaded on Wednesday's Oprah. About being beaten as a kid. About being sexually abused as a kid. Brutal stuff.
And the brutal truth is it's not the first time a star has opened up on the talk-queen's show. Here are others who have made surprising admissions:
1. Mackenzie Phillips' incest bombshells: "You often hear on television…people say it's shocking, or something is explosive," Oprah said as she welcomed Phillips to her stage, "and in this case, I would have to say it really is." And how. It was an uncomfortable to listen to the One Day at a Time star read about being raped by her music-legend father, John Phillips, as it appeared it was for Phillips to utter the words.  
2. Robert Pattinson's baby news: Not all Oprah revelations have to be gruesome. This one, in fact, was pretty funny. In fielding a question about whether he was dating a certain Twilight costar, Pattinson blurted: "Kristen's pregnant." The shocking part? The beyond-shy Kristen Stewartanswered Pattinson's joke—and, yes, it was a joke—with a joke of her own: "He's having the baby."  
3. Mo'Nique's abuser's apology: We knew the Oscar-winning Precious star had been molested as a child by her older brother—the actress said as much in interviews. We didn't know the perpetrator, Gerald Imes, would have the guts (or was it hubris?) to own the allegation on TV. "I downplayed it by saying, 'If you think I did it….," Imes said. "There's no more 'if you think'—I did it." 
4. Jessica Simpson's anger: Those "mom jeans" digs? They hurt. "It would bother any woman, I would think," Simpson said. John Mayer's oversharing of their sex life? That hurt, too. "I'm not angry. I'm, well, I'm a little angry," she admitted. The revelation here? Celebrities really are people.  
5. Simon Cowell's worries: American Idol's former dark lord really is a person, too—and, be honest, who saw that one coming? But we have to admit we were impressed, and surprised, by how Cowell answered an Oprah question about whether he wanted children. He actually fretted aloud about being too old. He actually allowed himself to appear mortal. Seriously, who knew?