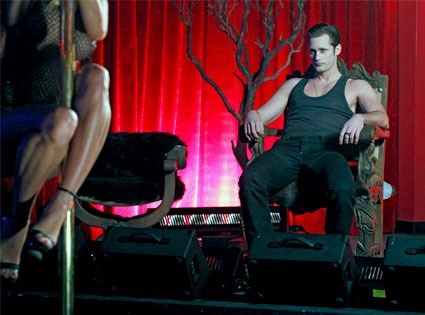 John P. Johnson/HBO
Picture it—Alexander Skarsgård in a tight body-hugging unitard.
Nope, he's not in a new production of The Nutcracker, but...
True Blood costar Kristin Bauer has her fangs crossed that show creator Alan Ball keeps true to Charlaine Harris' book series.
"In the next book, Eric loses his memory and loses his mind and sort of becomes sweet and runs around in pink spandex!" Bauer told me at Spike TV's recent Scream Awards. "Please, God! Please, Alan Ball! Please put Alexander in pink spandex. I mean, wouldn't that be heaven?"
Um...yeah!
In other heavenly True Blood news, Sam Trammell says Sam Merlot's steamy dream about Bill (Stephen Moyer) last season could develop into something more. "Probably episode one," Trammell said when I asked if Sam and Bill would ever go all the way. "Are we gonna really do it or are we gonna puss out? Who knows? I still have vampire blood in me, so anything could happen."
Trammell said they're set to start shooting season four sometime next month.