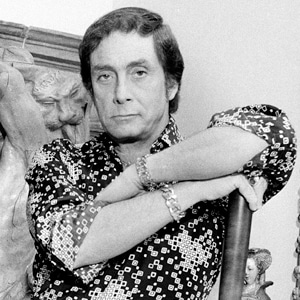 AP Photo/Marty Lederhandler
Thanks to Bob Guccione, not all of the adult-magazine spoils went to Hugh Hefner.
The flamboyant founder of Penthouse magazine, who once ranked among the richest men in America before a string of bad investments and something called Internet porn decimated his fortune, died Wednesday at a hospital in Plano, Texas. He was 79 and had been battling lung cancer.
Guccione created Penthouse in 1965, in part to finance his own art career and also as an in-your-face answer to the glossier Playboy.
"We were the first to show full-frontal nudity," he told New York magazine in 2004.
And the rest could just be "Dear Penthouse" history, if not for Guccione's outsize personality.
Though he lost a lot more money doing other things, his most artistic belly flop was the notoriously bad 1979 film Caligula.
Starring John Gielgud, Malcolm McDowell, Peter O'Toole and a lovely young Helen Mirren and written by Gore Vidal, the film about the life of the Roman emperor Caligula had the makings of a winner.
But somewhere between the early production problems that ran up the cost of the film and the extra sex and graphic nudity that Guccione wanted added in postproduction, all went horribly wrong.
Over the years, Guccione amassed an art collection that included works by Picasso and Matisse and was valued at $59 million, but he was forced to sell as his money troubles (tax issues, lost revenue due to Internet porn, etc.) piled up in the 1990s.

And though he lost control of Penthouse in a 2004 bankruptcy sale, he remained proud of what Penthouse—which, he estimated, made $4 billion while he reigned as published—had brought to the table (besides full-frontal nudity).
"We followed the philosophy of voyeurism," he told London's Independent newspaper in 2004. "To see her as if she doesn't know she's being seen. That was the sexy part. That was the part that none of our competition understood."
His business colleague and first wife, Kathy Keeton, died in 1997 but was listed on the magazine's masthead as President until it changed hands.
Guccione is survived by his fourth wife, April, as well as a daughter from his first marriage and a daughter and three sons with his second wife, Nina. Bob Guccione Jr. is the founder of Spin magazine.