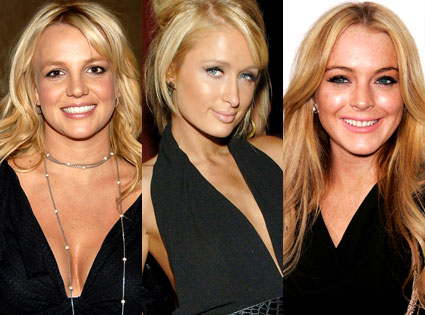 Kevin Mazur/WireImage.com, Denise Truscello/WireImage.com, Lisa O'Connor/ZUMAPress.com
Los Angeles' top cop believes problems concerning overly aggressive paparazzi have taken care of themselves, what with Hollywood's It girls generally curbing their bizarre, headline-grabbing antics.
Now if only police chiefs could exhibit similar restraint...
LAPD Chief William Bratton has spoken out—and how—against a proposal by a city councilman seeking to put in place new measures that restrict paparazzi. Bratton says the (alleged) behavior modifications of Lindsay Lohan, Britney Spears and Paris Hilton have made the proposal all but moot.
"If you notice, since Britney started wearing clothes and behaving; Paris is out of town not bothering anybody anymore, thank god; and evidently, Lindsay Lohan has gone gay, we don't seem to have much of an issue," Bratton told KNBC, L.A.'s local NBC affiliate.
He went on to offer similar sentiments to several other local outlets, calling the would-be crackdown on paparazzi a "farce," and further claiming that interest in candid pics has already waned.
Miley Cyrus might beg to differ, but Bratton was on a roll.
"If the ones that attract the paparazzi behave in the first place, like we expect of anybody, that solves about 90 percent of the problem. The rest we can deal with."
Later, Councilman Dennis Zane hosted a meeting at City Hall to discuss possible ways to limit the seeming free reign of paparazzi. Officials from celeb-heavy neighborhoods attended, along with such celebs as  John Mayer, Milo Ventimiglia and Eric Roberts.
"The danger exists in methods and tactics having absolutely nothing to do with picture-taking," Mayer said in his assessment of the paparazzi problem. "In fact, removing a camera from the equation is a very effective way of looking at this situation candidly.
"Recently [the camera] has come to serve as all but an official license to encroach on someone's right to protect themselves from threats of danger...it is also the most socially acceptable way to come within inches from someone who you do not know and who does not know you."
For his part, Bratton branded Zine's meeting "grandstanding and foolishness" and would protest in absentia, claiming the city already had "sufficient laws on the books" to deal with the camera-wielding press.