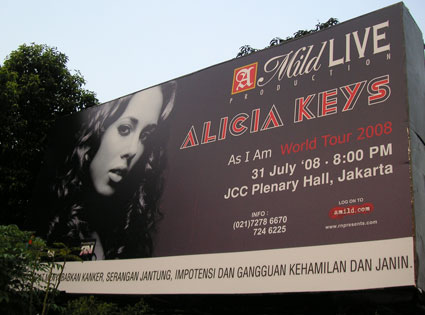 Tobacco Free Kids
Alicia Keys' Indonesian concert just slapped on the patch.
Philip Morris International, the original sponsor of the Grammy winner's gig in Jakarta tonight, pulled down all its promotional billboards and posters after the singer spoke out against the tobacco company's sponsorship of her show.
Keys was clued in to the company's aggressive sponsorship—featuring the logo and slogans for the brand's A Mild cigarettes—by the Campaign for Tobacco-Free Kids.
The antismoking group fired off an open letter to the R&B star last week, calling on her to "put the health of Indonesia's children first" and either remove the ads or cancel the concert.
Keys quickly responded, saying she was not only unaware of the tobacco endorsement but unappreciative of it.
"I apologize for any misleading advertising initially associated with the show," she said in a statement released by her record label, Sony BMG. "I am an unyielding advocate for the well-being of children around the world and do not condone or endorse smoking.
"I look forward to bringing my music and message to my wonderful fans in Jakarta."
While Philip Morris did not concede that its tactics were a bit heavy-handed, the company agreed to pull all their ads for the show, albeit around the time they were set to be pulled anyway. The signage, promoting the concert tonight, was taken down just yesterday.
Whether Philip Morris' financial support of the gig has gone the way of the ads, however, remains unclear.
"Whether tobacco sponsorship of music events leads to youth smoking is a matter of serious debate," the company said. "Having considered the facts in this specific instance, we have decided to withdraw all branding associated with this concert."
Consider that partnership snubbed out.