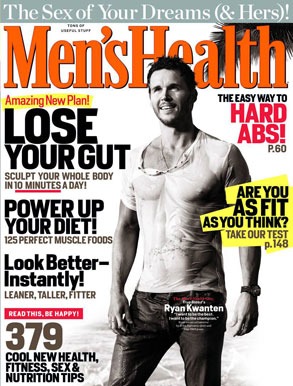 Men's Fitness
Brace yourselves, babes, November's issue of Men's Health will leave newsstands bare. Which is just how we like their cover's featured musclicious True Blood star...Ryan Kwanten.
(Thought we were gonna say Joe Manganiello, huh? No way, he's so two magazine sensations ago.)
The original True hunk spilled his workout regime secrets and how he keeps his figure so friggin' irresistible for both the HBO series and his own personal health. But you'll never believe what this buff babe does to boost those delicious biceps:
Guess drinking does some bodies real good. Kwanten, or should we say Hawt-en, told Men's Health that he has one unusual drinking habit: toss a few back and get that blood pumpin'.
"I've been known to turn up drunk at triathlons and do very well," Ry revealed to the magazine.
As if his booze-cruising really matters, as long as his hunky self flaunts everything he is working with whenever he gets the chance.
This reminds us, bravo to the mag for having the most riveting and ripped vamp so sexily soaked in a tight-white tee and some drenched denim. The dampness accentuates all of Ryan's best assets!
But to prove we're not the superficial bloodsuckers the rest of his fans are, we love that the TV star is giving his thoughts on how his hot physique isn't just role play.
"I'm not one of those actors who gets physically fit for a role and then loses it all again," he said. "I'm very rarely in the gym. My workouts are predominately outside, in nature."
Makes him the perfect package, don't ya think? Mysterious man candy meets beach body babe, check yes!
We're down to go for a dip in any body of water with your physically fit bod, or hike to the heights of...heavens-cares as long as it's with you.
Ok, we'll shut up now.