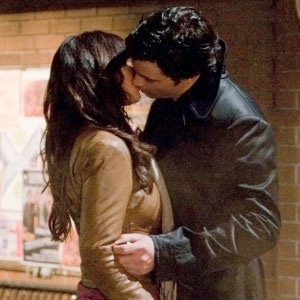 The CW
Is this season really, truly Smallville's final hurrah, or have we been had?!
That is the million-dollar question, especially considering this season's creative (and ratings!) highs. Can strong numbers and great storylines convince the Powers That Be to extend our stay in Metropolis?
Smallville show runners Kelly Souders and Brian Peterson tell us they never say never...
After checking out Smallville's incredible 200th episode, the question had to be asked: Are there any plans to bring the show back for an 11th season with the kickass future Lois (Erica Durance) and Clark (Tom Welling) as the stars?
"I can't say it's the first time the words season 11 have creeped up this year," laughed Brian during a private panel for the press. "As we've been pushing that it's the final season of Smallville, I think it's the final season of Smallville. We don't know [of any] plans, but we never bet against ourselves and the show."
So, this is it. Barring some crazypants nuclear shift in the universe, Smallville will be wrapping things up for good come May. Now let's get back to that 200th episode and all the revealing, awww-worthy moments that came along with it. Why deliver so many goods so early in the season?
Explained Brian: "We really wanted this to be a positive season and a season of growth and forward movement, so if [all of this] happened late in the season it felt like...the very last second before his big move into Superman. We wanted it to launch the season, not just cap it off."
And then there's that darn suit. We saw it in a blue and red blur on Future Clark, but when will the present-day version get his chance to don that thing? Answer: This we'll have to wait for.
"He still has quite a bit to go through," Kelly said. "We'll see that the world around [Clark] puts up some major stumbling blocks for him. As much as he's progressing things around his life, the environment around him is going to shift after this episode to a place where he's still got some major battles to overcome. [But] he's earning his stripes all along."
One of the biggest questions about numero 200 is why Clark didn't just reveal his true identity in the barn. (Spoiler Alert! We can reveal exclusively that Clark will tell Lois that he's the Blur in this week's episode. Yay!)
"There are two big things: Does Clark just tell her he loves her, or does he say I love you and I'm the Blur?" Brian told reporters. "He's got a lot of things to lay out. And we really wanted to focus on the emotion of this moment, and leave whether he's Superman or not aside. The important thing after his journey was saying that he loved her, and reassuring her of his feelings."
"Lois is such a big part of his future," adds Kelly. "We wanted a moment that really shined a light on the fact that this is a big moment in time."
Would you guys really want an 11th season of Smallville, or is the 10th and final year a perfect ending to the saga? Post those brilliant thoughts of yours below. And tune in to Smallville Fridays at 8 p.m. on the CW.