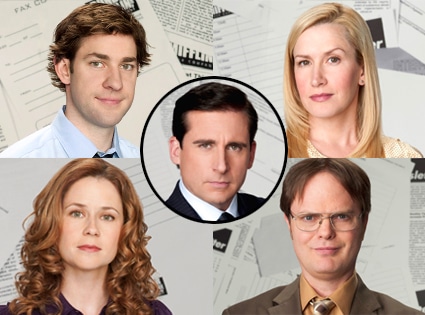 NBC Photo: Mitchell Haaseth
Steve Carell is on his way out of NBC's The Office, but we've got a pretty good idea of which Dunder Mifflin insider is most likely to replace him.
Plus, find out what's going to happen to Jax and Tara on Sons of Anarchy, who's getting famous on 90210, what to expect from sexy Clark Kent on Smallville, love triangle scoop on from Grey's Anatomy and much more!
Kyle in Texas: Any more Rocky Horror-Glee scoop?
You can get an early taste of goodness tomorrow when the Glee Rocky Horror album comes out for all the world to hear! Plus, be sure to check out E! News this week for a peek at the amazing "Time Warp" video from the episode. Will you be iTunes-ing it or hitting up your local Target for the album? Discuss amongst yourselves. 
Jess in Australia: When are you posting the Vampire Diaries Love Debate!
We received all your amazing entries and will post the best arguments for both sides this Thursday before a new episode airs.
Sarah in Kentucky: I want Lexie to get back together with Mark on Grey's Anatomy.
We want the exact same thing, but if you ask us, it looks like Lexie is about to get sucked into a love triangle with April and Alex Karev beginning with the Nov. 4 sweeps episode of Grey's. Sniffle.
Julie in Illinois: The Office has been so funny again this season. What's coming up?
This week marks the debut of Justified's Timothy Olyphant, and—swoon! Can he please become an Office regular? You can be on more than one show full-time, right? Anyhoo, the entire episode focuses on taking down Olyphant's badass rival salesman, Danny Cordray (who just so happens to also be Pam Beesly Halpert's ex!), and it's one of the funnier eps we've seen in awhile. It's got Jim, Michael and Dwight teaming up, which is always fun, plus we get to see a Darryl-Andy musical number!
Cody: Any other news on Steve Carell leaving The Office?
Over the next two weeks, we're really going to start to feel that Michael Scott is on his way out on The Office. Honestly, it's a little unsettling, but we promise the show isn't losing its funny just yet. The storylines are starting to nudge Michael in the direction of moving on, and a certain other staff member feeling like it may be time to move up. (And this Dunder Mifflinite's name rhymes with Jarryl Tilbin.) On the bright side, this year's Office's Halloween episode is just around the corner, and the costumes are all on point! You may even see a hilarious nod or two to True Blood.
Jenna in Indiana: Anything you know about How I Met Your Mother's next Robin Sparkles episode would be great.
How about this stupendous little tidbit: Get ready to see Cobie Smulders and Nicole Scherzinger in some big ole crimpy hair with a sound that's a cross between '80s queens Debbie Gibson and Cyndi Lauper. Plus a little Alan Thicke thrown in, just for good measure. 
Courtesy: John Shearer/Getty Images
Jeff: 90210 is on fire this year. Any scoop?
Things aren't looking too hot for Adrianna right now—you know, since she stole a dead pop star's song and got caught by his creepy, money-grubbing manager—but she's actually going to find some major success in the music biz. We're talking number-one hit song, full-on entourage and a bitchy go-getting publicist. Add that to the fact that she and Navid are still going pretty strong (he hates the whole biz, but is sticking by Ade), and we'd say she's doin' all right.
Kandice: More 90210?
Keep your eyes peeled for some mayor flirtage between Debbie (Lori Loughlin) and Ryan (Ryan Eggold). Might they 90210's next big fling? Don't count Aunt Becky out—she is single and ready to mingle!
Alicia in Minnesota: Any scoop on my new fave comedy, Raising Hope?
Yes! We just talked to show runner Greg Garcia, and we'll post the whole interview next Tuesday, but for now we can give you a little preview of three Raising Hope sweeps episodes: Hope gets sick for the first time; there's a very special episode about sexual predators (it's a comedy, really); and the baby mama-serial killer's parents come over for Thanksgiving.
Jen in Washington, D.C.: Please tell me that Jax and Tara will get back together on Sons of Anarchy!
Not right away, sorry. Jax is going to Belfast, and Tara gets left behind in Charming. The good news is that Maggie Siff gets a fantastic acting showcase in tomorrow night's episode—look for great work from her in scenes with Charlie Hunnam, Ryan Hurst and Katey Sagal. Oh, and you can also look for some foreshadowing about Tara's fate in the final minutes of the episode…
Georgina: What's ahead on Hellcats?
Sexting strikes again, and this time it's Hellcats' Alice (Heather Hemmens) in the hot seat. To stop inappropriate pictures of her from seeing the light of day, she enlists the help of current boyfriend Jake (Ryan Kennedy) and former boyfriend Lewis (Robbie Jones). Trust us, this is not a happy reunion.
Margaret in Baltimore: What's to come on my favorite comedy, Modern Family?
Producers are casting for a Matthew McConaughey look-alike to play Mitchell and Cameron's superhot neighbor. The character will be shirtless and very laid-back. Hmmm…maybe they could just cast Matthew McConaughey himself?
Columbia: Someone told me that Southland is coming back, but I totally thought it was re-canceled. If it's coming back, can you tell me anything about what's happening with Ben or John?
Southland is definitely coming back! New episodes air in January on TNT, and one of the first episodes will involve Ben (Ben McKenzie) inadvertently bedding a redheaded badge bunny, e.g. a woman who loose morals who prefers the company of police officers. Poor Officer Ben is going to feel so used!
Christian: The Big Bang Theory is great this season—I love having it on Thursdays. Any scoop?
Star Trek: The Next Generation star Wil Wheaton is back this week to shoot another episode of BBT! Look for another hilarious throwdown with Sheldon (Jim Parsons), this time at a screening for a restored version of Raiders of the Lost Ark.
Chloe in Los Angeles: Totally geeking out about Felicia Day guesting on Eureka this season. Got any scoop? 
Both Felicia Day and Wil Wheaton—whom Warehouse 13 star Allison Scagliotti calls the "reigning prince and princess of the geek world"—are more than guesting when Eureka returns in 2011, star Neil Grayston (Fargo) told us last week at the Syfy Digital Press Tour. "Wil was just gonna be on one ep and now he's on half the season, and Felicia's on a lot of eps—they're like members of the cast." As to their storyline, Neil would only say this: "Felicia and Wil and Fargo have a sorta thingy happen." 
Miranda in California: I cried at Brothers & Sisters last night! What's to come?
Good news! The Walker family will be expanding, as Scotty and Kevin are going to take in a foster child named Olivia. She's an adorable preteen with some anger problems after years living in the system.
Georgia: Anything exciting in Tuesday's Halloween-themed Parenthood?
We love it when the Bravermans band together to support their own, and this episode of Parenthood is no exception. Max decides to try trick-or-treating for the first time, but the scariest house on Elm Street may prove to be a breaking point. And if all that Halloween candy wasn't sweet enough someone pops a (big) question.
Marty in Chicago: Thank the gods Caprica is back. Any news on the rest of the first season—and whether there will be a second?
We asked the Caprica gods themselves—Ronald D. Moore and David Eick, who told us to expect "a lot more Battlestar Galactica—more tie-in between Battlestar mythology and the ongoing story" in these new eps, along with "plenty of Cylon ass-kicking" and a greater role for Lacy (Magda Apanowicz). Syfy executive vice president Mark Stern told us the network is "hopeful to have a decision before Nov. 15" regarding the season-two pickup...and it better be yes, considering Moore and Eick told us, "We have a creative roadmap for the entire second season—we mapped it out in greater detail than we ever did in the BSG run."
Erin in Brooklyn: SARAH the talking house's robot romance with Sheriff Andy has to be Eureka's funniest storyline ever. Will we see more of these two love-bots?
Yes, the voice of SARAH himself, Neil Grayston, confirmed to us (in his normal Fargo voice). "It gets pretty funny," he said, adding, "I have a weird job sometimes. I'm a girl robot house [having] a love affair with a robot guy."
Claire in San Francisco: Weeds spoilers! For the love of all that is holy, I need some Weeds spoilers! Who is Lars? Is Guillermo coming back? Some info on Esteban's return? Give me something, please!
Lars is the sweetest guy in Detroit and part of a crucial reveal, and that's all we can say about that. Also, the show runners have heard your pleas: Guillermo is coming back. (Yay!) Last but not least, Esteban is still a scary mofo, and he will happily kill anyone who stands between him and baby Stevie. You should also know that the last episodes of the season feature a bizarre but fascinating performance by showbiz legend Richard Dreyfuss as a man from Nancy's past.
Tracy in Illinois: Just finished watching my recorded episodes season two of United States of Tara, and it was great. What's coming next year?
First comes love, then comes marriage, then comes the baby in the baby carriage! Charmaine (the amazing Rosemarie DeWitt) is having a kiddo, and that means that she'll be turning to her crazy/evil mother Bev for help. We predict that goes completely smoothly. (Right?)
Whitney in Midland, Mich.: Will Sasha be back on Make It or Break It next year?
Don't worry—our favorite gym coach hasn't left the girls for good. Just be patient. In other news, our very favorite MIOBI lady  Payson Keeler (Ayla Kell) is back in championship form, and it's about freakin' time! The show just wasn't the same with her on the bench.
Molly from California: What's coming up on The Big C?
Cathy will finally break the bad news to Paul that she has cancer on the episode airing Oct. 25. Her news definitely trumps Paul's revelation that he slept with Rugby Slut Tina. But it turns out Cathy isn't the only one who has been lying on The Big C. When Andrea threatens to drop out of school Cathy decides to pay her a visit in the 'hood. She's surprised to find out that Andrea isn't exactly living in a crack house with a drug-addled single mother.
@NYTOWN14 via Twitter: Is the alt universe on Smallville in a different episode than "Homecoming?"
It is. We can also tell you that the Clark in this "alt Earth" has been raised by someone other than the Kents, and it makes him veeerrry different and very interesting!
Lori in Oregon: Ah! Future Clark Kent is so sexy! Will we see him again on Smallville this season?
Count on it, sista. (By the way, FCK is way sexy!)
Sam in New Orleans: I can't believe Myka left Warehouse 13. She'll return for season three, right?
Pshaw, of course she will. Actually Syfy execs refuse to confirm this (bah humbug), but you will see Joanne Kelly again in Warehouse 13's special holiday episode (airing back-to-back with Eureka's own special in December). Star Allison Scagliotti (Claudia) told us the ep features a "bad Santa terrorizing a businessman" and Judd Hirsch guesting as Artie's (Saul Rubinek) father.
Gemma in Ann Arbor: Any scoop on Sanctuary?
Sexy star Robin Dunne (Will) told us last week at Syfy's Digital Press Tour that we'll meet a new big bad in the supernatural series' third-season. Ian Tracey plays an "iconic character from history and literature" whom "we'll love to hate." Executive producer Damian Kindler describes the new Victorian villain as "the inspiration for Jekyll and Hyde." Spooky! 
—Reporting by Jennifer Arrow, Megan Masters, Drusilla Moorhouse & Christina Dowling