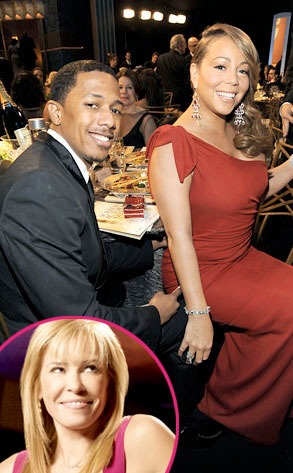 Kevin Mazur/Getty Images
Some people just can't take a joke. Or deliver one.
Nick Cannon, apparently, falls into both these categories as he launched full-scale Twitter warfare on E!'s own Chelsea Handler yesterday after a harmless (and if we may be so bold, quite funny) dig at Mr. Mariah Carey.
And here we thought it was the possibly pregnant woman who was supposed to be the hormonal one.
So what sparked this bizarre and mostly one-sided war of words? Not any relations with 50 Cent, though he eventually factored into the tiff. No, this battle all began with the following punchline:
"I just heard nick cannon is starting a comedy tour," the Chelsea Lately host tweeted. "Who's going to do the comedy?"
That, apparently, was just too harsh a barb for Cannon to bear.
"Wow @chelseahandler I actually used to have respect for you as a comic. But for one artist to diss another in the same art form. #Tasteless," he tweeted. "Soon as I get off stage tonight, I'm going in on @chelseahandler I'm about to be relentless! OFF WITH HER HEAD but right now I got to focus."
So, one tasteless move deserves another? Well, at least he kept everything in perspective.
Staying true to his word, Cannon released an avalanche of insults on Handler later that night.
"Funny how all of @chelseahandler fans are coming at my like I did something to her. I don't even know this broad! She on my s--t! But since it's all in fun and supposedly just comedy, Let's get to the muthaf--kin' JOKES!!"
Cue the rimshots, if only in Cannon's head:
"Everyone knows @Chelseahandler had sex with the head of E! for her show. So when it gets canceled does he get residual p--sy for the reruns? @Chelseahandler Looks like she got hit in the face with a hot bag of nickels!"
And, of course, he had to invoke Fiddy.
"Just talked to @50Cent He said he made @chelseahandler get G-Unit tattooed on her balls!"
Um, good one?
"@50Cent wasn't hitting @chelseahandler they was just sharing testosterone tips."
Gee, think someone hit a nerve? Not content to leave it there, Cannon then decided to broaden the list of celebrities he decided to insult by going after two superstars with much, much bigger platforms from which to hit back. Probably should've thought that one through a bit.
"@Chelseahandler @Howardstern @Eminem Why do all these angry ugly whitetrash folks want beef with me? What I do? I'm a harmless corny dude!"
Who doesn't know how to stop.
"@chelseahandler is like the new @joanrivers just without the funny and more plastic surgery."
Presumably, the fans shot back at Cannon for his runaway ego (and attempts at comedy), leaving him to slowly back out of the hole he dug.
"Just jokes people, LOL! Well I got to be at my next job in a few hours so I will continue the jokes on my morning show."
Boy, those listeners are in for a real treat.