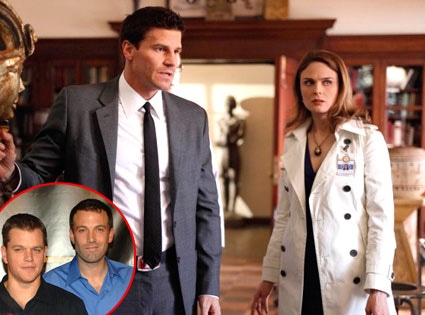 Denise Truscello/WireImage; Greg Gayne/FOX
Do Matt Damon and Ben Affleck have a Bones to pick?
The BFFs seem to have an inside joke/love affair with the Fox series, with both slipping odd references into their acting wherever they see fit.
Is it just a coincidence or are these two superfans?
On last night's live episode of 30 Rock Damon appears as Tina Fey's pilot boyfriend, Carol, who is moments away from a possible plane crash. He calls Fey's Liz Lemon, not to wish her a happy 40th birthday, but to give her instructions in case he dies, as his plane bobbles and shakes.
This is where Bones comes in.
"Lizzie, if something were to happen, I want you to know that I...that I...I need you to go to Raleigh to my apartment and just clean out all the porn before my mom gets there," he shouts. "I also need you to TiVo Bones for me in case I survive."
Hmm...
Exhibit B: Affleck slipped a Bones reference into his crime thriller, The Town, in which he plays a big-time bank robber in Boston. At one point, as he's schooling costar Rebecca Hall on his knowledge of police and bank heists, he mentions where he's gleaned his info:
"I watch a lot of CSI. Miami, New York. And Bones."
Are these guys in cahoots with David Boreanaz? Do they harbor a secret crush on Emily Deschanel? Are they getting a cut of profits from producers?
No one's talking yet, but Damon's new flick, Hereafter, is out next week. Your move, Matty.