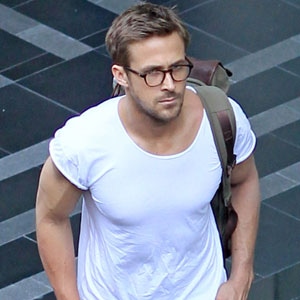 CYVR/GSI Media
Breaking news: Ryan Gosling is actually Batman. Or Superman. Or some kind of insanely hot superhero.
Aside from breaking up fights on the streets of New York, the heartthrob also reportedly saves people's lives when faced with a possible collision. Swoon.
Laurie Penny, a British news writer, was about to get hit by a taxi cab on 6th Avenue in New York City when—bam—Gosling allegedly saved the day.  Well, that's how Penny's tweets described the event. Ryan's reps haven't confirmed he was her savior. (Though wouldn't that totally be like a hero not to want to talk about it?)
But Gosling's not the only celeb to get in the face of danger.
Elderly Care: Bradley Cooper's ex-girlfriend Zoe Saldana jumped to the rescue of a visibly injured elderly woman in Culver City in January after witnessing a horrible car accident that left the driver with a scratched and bloodied face.
The 33-year-old star assisted the woman from her car to the curb before phoning an ambulance.
Frazer Harrison/Getty Images
True Blood Lifesaver: Vampires care about people's safety, too! True Blood's Ryan Kwanten helped an injured man in April 2011 when he found him lying bloody in a street in Hollywood
Kwanten reportedly screamed for help to get the man off of the street, managed to carry him to safety with the help of a few bystanders, and stuck around until paramedics arrived.
Fox, Moses Robinson/WireImage.com
T.I.'s Smooth Talk: The rapper gained plenty of new fans in October 2010 when he helped authorities persuade a suicidal man not to jump from a 22-story building.
But though the scandal stories tend to trump the heartwarming stuff, celebrities have actually been putting their considerable resources—and, in some cases, their conviction that they're the only ones who can really help—to good use for years.
Cruise Control: Is there a celeb more willing to stick his neck out than Tom Cruise? First off, the actor helped prevent disaster no less than three times in 1996 alone:
• In March, Cruise was driving along Wilshire Boulevard when he witnessed a hit-and-run accident. He stopped, made sure someone called an ambulance, and then paid the woman's $7,000 ER bill when he found out she wasn't insured.
• At Mission: Impossible's London premiere on (when else?) July 4, Cruise stopped to help two young boys who were pinned against the crowd-control fence as fans swarmed excitedly for a better look at the star and then-wife Nicole Kidman. "He is my hero," 7-year-old rescuee, Laurence Sadler, said at the time.
• Finally, that August, Cruise and Kidman were breakfasting on their yacht, which was docked near Capri, when they spotted five people bobbing in the water as their 63-foot sailboat burned—and ultimately sank—nearby. Cruise immediately sent his skiff over to pluck the stranded pleasure-boaters out of the water.
And Cruise didn't just do the right thing when Kidman was around. In 2006, he and Katie Holmes came to the aid of two car-accident victims on L.A.'s 101 Freeway, waiting with the duo until police and paramedics arrived.
How does he have the energy left to do his own stunts?
Ford Tough: Action star and licensed pilot Harrison Ford has been known to swoop in when needed with his trusty helicopter. In 2000, Indiana Jones himself rescued two female hikers who were stranded on Idaho's Table Mountain after one fell ill. Then the following year, he air-lifted a Boy Scout to safety after the 13-year-old got lost overnight in Yellowstone National Park. Sure, Ford crash-landed himself once in L.A., where he keeps his chopper, but you can bet that plenty of people were happy to help.
Gimme Moore in a Pinch: Twitter isn't just for proving how hot you still are at 47. In the last two years, Demi Moore has intervened with two different people who tweeted that they were planning to commit suicide. Moore started conversing with both and retweeted the comments to ensure that the proper authorities were contacted. Both troubled souls made it through the night, thanks largely in part to Demi's active Twitter habit.

Ethan Miller/Getty Images
Friends in Fiery Places: In town to visit his in-laws in 2000, Garth Brooks helped evacuate five people in Collinsville, Okla., after seeing that their houses were right in the path of a raging grass fire. The country star and another man ran into one house to help two brothers, and then he returned with his pickup truck to their neighbors' place and drove a woman and her three children out of harm's way.
NICHOLAS KAMM/AFP/Getty Images)
The Penn Is Mightier: Disagree with Sean Penn's politics if you want, but he's a hands-on do-gooder. The actor, who most recently went to Haiti to help with earthquake relief, went to New Orleans in the wake of Hurricane Katrina in 2005 and literally went around plucking people out of the water in a motorboat. (Even the mighty Cruise just sent his skiff!) Or at least he did until that boat sprung a leak and, despite some frantic efforts with a plastic cup, it sank. But before that, according to witnesses, Penn transported roughly 40 people who were stuck in their flooded homes to dry land and made sure they received medical care.
Who else comes to mind when you think of starry heroics? Share your fond reminiscences in the comments.