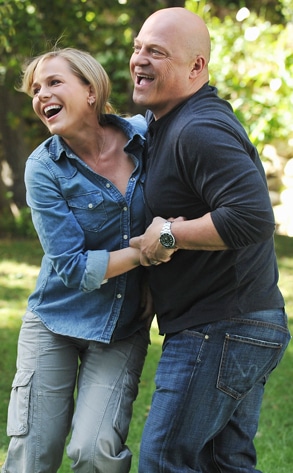 ABC/ERIC MCCANDLESS
• Fall TV: ABC's No Ordinary Family, one of fall's least-doomed new shows, has gotten an order for four more scripts from the Alphabet net. Meanwhile, our beloved little Life Unexpected got a request for two more scripts from the CW. Yay!
• Grey's Anatomy: You want to give us more Kevin McKidd, Jesse "Hotness Monster" Williams and Sarah Drew? Oh, OK, fine. (Just kidding. We are positively delighted to hear that those three actors are starring in new Grey's Anatomy webisodes, which premiere tonight on ABC.com.)
• The Vampire Diaries: One of your least-favorite Supernatural actors ever, Lauren Cohan (Bella), is joining TVD as a potential vampy love interest for Damon (Ian Somerhalder).
Melanie: I can't believe the Mad Men finale is Sunday. Do you have any scoop?
Hahaha. Show runner Matt Weiner has slammed the gate down hard (hope your fingers weren't in the way) on spoilers/previews/info of any kind about this season's finale—no new promo footage, no sneak peeks, no screeners, no nothing.
OK, to be fair, they did release these five promo stills, and we know the title is "Tomorrowland," and the logline is "an opportunity arises for Don and Peggy." So who knows, maybe Sterling Cooper Draper Pryce will be saved by landing the Disneyland account?
Weiner did, however, lower his shields long enough to do an interview with TV Squad's Joel Keller, and if you have time to read 5,500 words about Mad Men, he addresses everything that's already gone down this season, including Joan's abortion, Don's drinking, Betty being bitchcakes and much, much more. It's a good read. Enjoy!