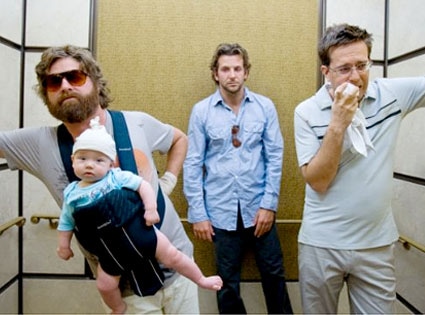 Warner Bros.
Someone's gone missing from the Hangover sequel.
We just got word that a certain star from the original cast isn't returning for part two.
Who is it? Read on to find out…
Bradley Cooper, Zach Galifianakis, Justin Bartha, Ed Helms and Ken Jeong are back. Director Todd Phillips is shooting right now in L.A. and will continue next month in Bangkok.
However, we hear that Heather Graham will not be reprising her role as Helms' Las Vegas stripper love connection.
Sadly, Graham told us back in December she was hoping to return. "I think Stu [Helms] should get her pregnant, and that she should do a pregnant strip dance," she said. "I know it sounds wrong, but it sounds so right."
Oh, well.
Graham's and Philips' reps did not immediately comment, but a rep for Warner Bros. confirms our scoop: "Unfortunately Heather won't be in the sequel—they way the story unfolds doesn't allow any room for her character to show up. I don't want to reveal to much of the film, but once you see it you'll understand."
As for who else may be joining the cast, Sasha Barrese, who plays Bartha's wife (yeah, she's in the sequel), teased us big-time last night at Guess? and Marie Claire's benefit for the Sojourn program for battered women and their children.
Barrese revealed someone "unbelievable" is making a very unexpected cameo. "It's the best cameo you've ever seen in your entire life," she said. "It's a guy, [but] that's all I'm going to say. It's the best."
With that kind of pitch, it better be good.