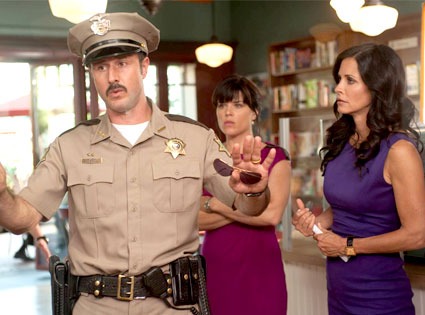 Dimension Films
If things are awkward now for David Arquette and Courteney Cox, let's just hope they settle things come April when they have to promote their flick, Scream 4.
The publicity machine actually begins rolling out this weekend when Arquette will join Neve Campbell at the Spike TV's Scream Awards on Saturday...
Only we have the above exclusive shot from Scream 4. Separated or not, we're still looking forward to the return of the ghostface killer.
However, Cox will not be making an appearance. Whether or not it has to do with their splitsville status is unknown, but a source says the Cougar Town star never had any plans to attend. Arquette will present footage from the fourth installment of the horror franchise during the awards show with Campbell and new castmember Emma Roberts.
In other Scream Awards news, we just got word that Anna Paquin and Stephen Moyer will join costars Alexander Skarsgård, Sam Trammell, Rutina Wesley and Kristin Bauer at the show.
And the bloodsucking beautifulness doesn't stop there. Vampire Diaries stars Ian Somerhalder, Paul Wesley and Nina Dobrev will attend, too.
As we already told ya, Twilight queen Kristen Stewart signed on a few days ago. If only Robert Pattinson was gonna be there, too. Fingers crossed.