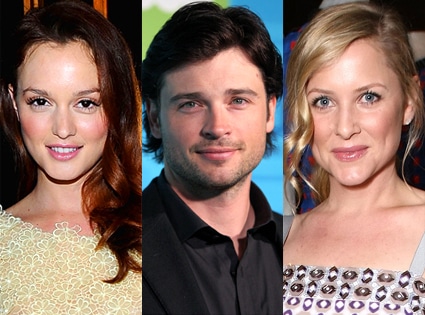 Jamie McCarthy/Getty Images; Mike Coppola/FilmMagic; Alberto E. Rodriguez/Getty Images for Prada
Riddle me this, TV friends. Which much-loved Friday Night Lights star was just about to pop onto Gossip Girl for the current season?
What awesome jaw-dropper is in store on Smallville?
And exactly why is the Oct. 28 episode of Grey's Anatomy one of the best of all time?
Get the answers right here, or look like a dork at the watercooler. Seriously, don't say we didn't warn you...
Frederick M. Brown/Getty Images
Rebecca: Gossip Girl scoop. Stat. Now.
You. Got. It. Hearing from sources that Friday Night Lights and Lone Star star Adrienne Palicki was in talks last week for seven episodes of Gossip Girl, but it didn't end up happening. On the upside, you will see her on FNL again for the fifth season, which looks fab from the season premiere screener we got, and here's hoping she lands herself another new series soon, 'cause the TV world without the FNL cast is a cold and lonely one.
Everybody and Their Mother: Can we have the old chat format back?
Yes. For the record, the new gallery chat format was hugely successful from a numbers standpoint (more people read it), and we also liked the new look of it, and that you could comment on each show individually. But alas, enough of you longtime readers complained, so this week we are returning things to the way they were, at least for the time being. Don't tell our bosses and we just might get away with it...And if anyone still has any opinions on the matter, as usual, the comments section is your BFF. Thank you for your patience. And for the chocolate chip cookies you'll surely be sending.
Tiffanie: Is it true that Ryan Devlin is headed to Brothers & Sisters, and if so, what does that mean for his gig on Cougar Town? I love him and Laurie together!
Get in line, sista, because we're all drinking the Ryan Devlin Kool-Aid over in these parts! We can confirm that Ryan's going to be smoochin' up a storm with Calista Flockhart over on Brothers & Sisters. (Hey, if Cougar Town doesn't have a cougar at least one ABC show will!) Meanwhile, Ryan will be sticking around Cougar Town...but only for the next two episodes. So Smith and Laurie (Busy Phillips) may be headed for Splitsville. Sad clown. Still, our sources tell us there's always room for more Ryan on C.T.
Julie in Oregon: Any news yet on Big Love? I've been watching TLC's Sister Wives but it's not the same!
We just caught up with our girl Ginnifer Goodwin at a recent event for the Gay, Lesbian and Straight Education Network, and asked about just that! Ginnifer told us, "They would fire me if I spilled any beans, but honest to God, this is my favorite season yet. It premieres January. We really concentrate on the Henrickson family this year, and we get back to our exciting and varying experiences."
Ben in Indiana: Will there ever be more episodes of Boston Med?
Yes! For one thing, the documentary-style ep of Grey's Anatomy we talk about in the spoiler section is a total intentional homage to fellow awesome ABC medical show Boston Med. (Remember that woman from Boston Med who donated her dead husband's face to a train-accident survivor for a face transplant? In this episode of Grey's, a woman donates her dead husband's arms to a guy who lost his in a lumber-industry accident, and it's just as compelling.) Anyway, we tracked down Terence Wrong, the documentary genius behind Boston Med, and Hopkins before that, to ask about more TV from him, and he told us exclusively, "Another one is in development but maybe not Boston." Woo-hoo!
Ryan in New York: Gossip Girl, please! What is up with Chuck and Blair? And when will we know why Juliet is tormenting Serena?
So much hate to spew, so little time...Chuck and Blair are all about hate sex for the next little while. Lots of hate sex, so put the kiddies to bed, y'all! As for Juliet, we'll learn that her brother is connected to Serena's past (like, past, as in before we even met her on the show). He got thoroughly screwed over by Team Van Der Woodsen (that's my understanding anyway), and Juliet is helping her brother seek revenge.
Amelia: Glee me!
Could Glee creator Ryan Murphy getting back to his Nip/Tuck roots of exploring America's screwed-up body image? The show is currently casting for someone to play "the biggest, most intimidating girl ever" as well as "obese females and males." Sounds like either bullying, self-respect or both will be the topic of episode seven.
Finley: Chuck is great this season. Any news on what's ahead?
Somebody's going to stripper school! Chuck is casting for a pole-dancing class instructor. Ellie's (Sarah Lancaster) pregnant, and preggos don't generally like being naked in public, so could this mean Sarah (Yvonne Strahovski) is getting all strippy to prep for a mission? (The fanboys cheer while Yvonne runs and hides.)
Wendy Redfern/Redferns/Getty Images
Madeline: Smallville, please!
I'm hearing some great things about an upcoming episode that is based on an "alt Earth" Clark will visit, which is something they did in the comic books. He will see an alt Clark there, and the end of the episode will have everyone talking. Also, get ready to scrape yourself off the ceiling after watching the 200th episode, 'cause it's made of 100 percent awesome from what I hear. "Best episode ever," says my source, and this source knows a thing or two about good TV. James Marsters is a huge part of the episode, in a good way—gone is Bad Brainiac of days past! Plus, if you're a Clois shipper (and let's face it, who isn't?!), you'll be treated to countless squeeworthy and very emotional scenes.
Janet: Any chance we'll see any Justice League or Society members again on Smallville again this season?
The answer to that question is a big fat yes! Smallville boss Kelly Souders says, "You'll definitely see a big League presence in the middle of the run [of episodes]. You won't have to wait until the end, we promise. Plus, you'll see more than one assembled at a time—and soon." Get excited.
Mimi: Any good Grey's Anatomy scoop?
The Oct. 28 ep of Grey's Anatomy, "These Arms of Mine," is the documentary ep we told you about, it's awesome, and it seems to wrap up most of the postshooting storylines we've been following throughout this fall. The talking-head scenes where Mer and Cristina are interviewed are particularly powerful as Cristina finally confronts what happened to her head-on. Oh, and Mandy Moore is back as adorable Mary, and we'll find out how the show plans to handle Jessica Capshaw's maternity leave. This is a must-see ep for all you Callizona fans! And how's this for cuckoo puffs fun? Felicity's Amanda Foreman, who very memorably played psycho babynapper Katie Kent on Private Practice, pops into this episode as as a regular ole guest star with no apparent ties to her P.P. character. You know what this means, right? The shows' universes don't always have to be identical and we can start our campaign to have Jeffrey Dean Morgan hit up P.P. as Kate Walsh's new love interest! Who's with me?
Veronica: How dare you make us wait a whole week to find out the next couple who is eliminated from your Who's Getting Engaged? game?! Spill now, mamacita!
Only because you asked, so, um...nicely? It's not Robin and Barney that I am talking about in this game. Keep on guessing, and check back Wednesday for the next eliminee.
Kent in Massachusetts: Forget Leonard and Penny! I want some news on The Big Bang Theory's Simon Helberg, please.
Guess whose ladylove is heading back into town?! Bernadette has left True Blood's Bon Temps (as Hoyt's biscuit-lovin' gal) and is returning to her home on The Big Bang Theory. And just to make sure we're all on the same page, how much have you missed Melissa Rauch and her onscreen guy Wolowitz (Simon Helberg)!? It's not going to be an easy road to romance this time though, but luckily Howard has trusty advisors Katee Sackhoff and George Takei by his side to help in the process. And wait til you find out why these two broke up in the first place. It's a doozy.
Leo: Anything on Hellcats?
If you're a fan of Lewis, get ready to learn a whole lot more about him this week when we meet his dad and find out the real reason he left the football team to join the squad.
Wendy in California: Is Serena really, truly going to move on from Dan and Nate on Gossip Girl now that they say it's over?
You know she'll be hooking up with Mad Men's supersexy Sam Page soon enough, but how's this photo for proof? Not only is Serena falling head over heels for her new guy, she's already flaunting it in from of mom. Classay.
Brady in Rhode Island: Is Annie really going to go through with having her boss' baby for money on 90210?
To say she's seriously considering it would be an understatement, but ultimately Annie (Shenae Grimes) will not go through with it. And it's actually witnessing Jen, aka Naomi's (AnnaLynne McCord) evil big sis, give birth to her child with Ryan (Ryan Eggold) that sets her back on the straight and narrow. In other 90210 news, I'm told there will be a "wrong sex" storyline this week. Here's hoping that means a baby will be delivered as a surprising sex to the parents, and not people having sex that isn't right, cause in the one-time words of Lisa Kudrow, I don't wanna see that.
Nell in Massachuetts: The Vampire Diaries might be the most exciting show on TV right now. Got spoilers on what's to come for my faves?
Sorry, Bamon shippers! (Anyone?) Looks like Bonnie (Katerina Graham) is going to be meeting a new guy. His name is Luka (awesome name), and he's comfortable with her powers because his history professor father taught him all about the Salem witches. Oh, and he has a family secret of his own that he shares with Ms. Bonnie, maybe before she's ready...
Melissa in Oklahoma: Hawaii Five-0 is my favorite new show! Got any scoop?
Yes! We'll finally meet Danny's much-talked-about ex-wife Rachel (Grace's mama) in episode nine. She's British and fabulous, and she might still have some feelings for Danno. (Got any casting ideas? Post 'em in the comments!)
Jessa in Arkansas: Can you confirm the rumors that have been flying around for months about my favorite couple on TV, Jara? Does Jax cheat on Tara with Ima on Sons of Anarchy?
All we can say is that Jax Teller is about to have something in common with Ross Geller from Friends. Of course, the characters are nearly identical as it is, right? (Hint: That's a funny.)
Jenny: Any Modern Family dish?
One of the Modern Family dads might have an illegitimate love child. But don't worry, we're pretty sure it's a hilarious-sitcom-misunderstanding illegitimate love child and not a serious plot twist. BTW, in case you missed 'em, some of the Modern Fam castmembers tweeted sneak peeks of their Halloween costumes. Could Nolan Gould (who plays Luke) be any cuter as a little Einstein?!
Trevor in Florida: Please tell me something about Community's Halloween episode?
How 'bout we give you a little peek! Take a look at just a few of the Community crew's costumes here (we've seen the rest of them and promise you that they're equally awesome!)—this shot was taken pre-zombie transformation, of course. Now we can't reveal which Greendalers will turn into the walking dead, only that it's not a dream and it's not part of some suspended reality. Just the typical Community-cinematic genius we've become accustomed to.
Catie in Indiana: What's coming up on Cougar Town?
Dr. Kelso is back in Bill Lawrence's hizzouse! Well, you knew that, but get excited because Scrubs' Ken Jenkins' Cougar Town debut as Jules' dad is right around the corner. In fact, his first episode is on Oct. 27 for C.T.'s extraspecial Halloween episode.
Jesse in California: Thanks for the Julia Stiles interview about Dexter! Do you have anything else to tease about her character today?
No matter what it looks like right now, Lumen's (Julia) existence in Dexter's life will not remain a secret for long. "Lumen does have a little bit of interaction with the other characters," Julia Stiles tells us. Hmmm...
Kelly: Are you watching Detroit 1-8-7? It's good, right?
D187 is clearly a very high quality show, although seeing that it's from David Zabel, who ran ER for so many years, we can't help but wish for a little more Doug-Carol/Luka-Abby-style romance to help counter the sheer bleakness of Detroit homicide. Barring that, we look forward to getting more backstory about each of the main detectives as we get further into the season. For example, producers are currently casting for an actor to play James McDaniels' "substance abuser" retired cop father in episode 10. Maybe John Amos? Robert Guillaume? Danny Glover?
Novena in Florida: When is Royal Pains coming back? I miss that show. Any scoop?
As they get closer to the wedding, Divya (Reshma Shetty) reveals that she is having second thoughts (again) about marrying Raj after getting close to sexy patient Adam. Sigh. We love the brothers Lawson, really, but wake us up with their ladyfriends figure out what they want romantically—we can't take this wishy-washing much longer!
—Additional reporting by Jennifer Arrow and Megan Masters