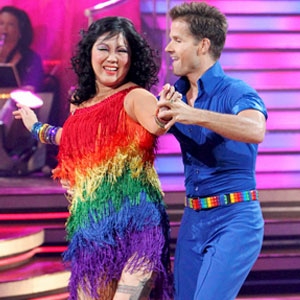 ABC/ADAM LARKEY
If Margaret Cho didn't want people to think that her dance last week with Louis Van Amstel was about gay rights, she probably should have skipped wearing the rainbow flapper dress.
"Bruno said, 'Oh, I love the gay flag as a dress,' " Van Amstel told me at GLESN's Respect Awards. "That was not a gay flag! That was the rainbow colors to say, 'Let's celebrate each others differences and lets all live under this rainbow.' That was my message."
And it certainly didn't help when Cho agreed with Bruno by proclaiming it to be the gayest thing to ever happen to Dancing With the Stars. "You can see me turn around, and I was like, That was our death sentence," Van Amstel said. "And then on top of that, Carrie Ann said, 'Dancing With the Stars has gone gay.' "
Van Amstel also isn't too thrilled with some of the judges' critiques. He backed up Maskim Chmerkovskiy's complaint that he was unfairly reprimanded for his teaching techniques. "In the end, there's a few others that I could criticize for their teaching methods," he said. "If you pick on someone's teaching skills then you have to pick on everybody that does it, but they don't!"