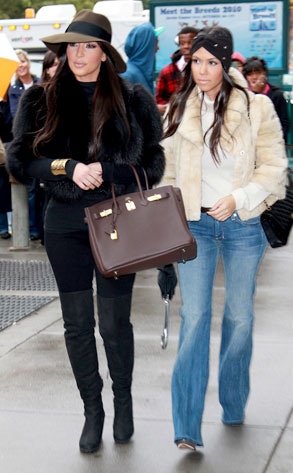 INFphoto.com
They've taken Los Angeles. They just took Miami. Next up: New York City.
The latest installment in the ever-watchable family's reality chronicle, Kourtney and Kim Take New York, will debut on E! in January 2011.
Suddenly, Kourtney Kardashian's move to Manhattan (and her and Kim's touchdown at JFK Sunday night) makes a little more sense.
"Fireworks over the Brooklyn Bridge. Welcome to NYC, bayba baaaybay!" Kim tweeted upon her arrival.
"Mason, Kim, Scott [Disick] and I arrived in NYC," Kourtney confirmed on her blog today. "So excited for some fall in the Big Apple. No better place...Are you ready, NYC?"
But while it was Kourt and Khloé Kardashian Odom who spent the past two seasons living it up in Miami, this time around, it's just Kim who has the pleasure of Scott's company as she joins her sis in the Big Apple.
(Khloé is hanging back to be with L.A. Lakers hubby Lamar Odom and manage the siblings' SoCal shop, although she's expected to drop by on her sisters during the season.)
While Kourtney's desire to relocate to the East Coast has been documented on Keeping Up With the Kardashians, it seems that Scott was just as eager to flee the prying eyes of family matriarch Kris.
"I know it's bad luck to tell your wish to everybody," he said on a recent episode. "But my wish would be to get the hell away from her family in California."
Aww, wishes do come true, Scott!
Ostensibly there to open up the third location of their Dash boutique, the sisters Kardashian will no doubt also be spending plenty of time discussing Kourtney's painful attempts at expanding her family, kvetching over Mr. Disick, and generally being fabulous.
Call it a hunch.
(Originally published Oct. 4, 2010, at 4 p.m. PT)