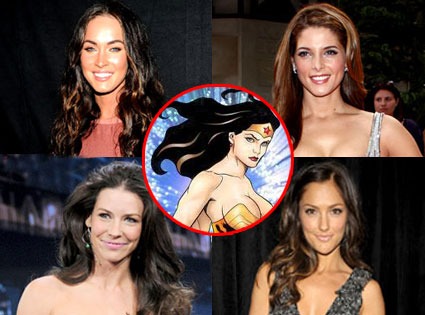 Kevin Mazur/Wireimage, Fred Duval/FilmMagic, Albert Michael/startraksphoto.com, John Shearer/Getty Images, DC Comics
Wonder Woman is back in the news, and this time she's getting—the Ally McBeal treatment?!
'Tis true, Ally creator David E. Kelley is the latest Hollywood bigwig to take a stab at resurrecting the Wonder Woman franchise. But unlike those who've ventured into the abyss before him (we're looking at you, Joss Whedon), Kelley has secured a deal with Warner Bros. to bring the princess to the small screen.
Which of course begs the question, which hot young starlet should fills the heroine's red boots?
Since 2005 some semblance of a Wonder Woman redo has been rumored, with gals like Sarah Michelle Gellar and Jessica Biel said to be in the running to play the Amazonian princess.
But that was then—and that was a movie.
TV is a different beast. And when we think of Wonder Woman popping up in our living rooms once a week, we can't help but think of young, hot Hollywood—similar to the way Smallville started the Superman journey with a boyish Clark Kent.
So for your viewing pleasure, we've compiled a list of the best W.W. candidates below, and want your feedback. Yes, some of these ladies are currently on other TV shows while others are movie stars, but we can dream, right? And if we missed one of your faves, let us know in the comments section. Who knows, maybe David E. Kelley will come to E! Online for some casting inspiration? Yeah, probably not.
And the Next Wonder Woman Is...