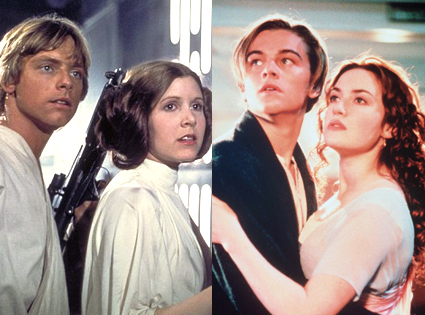 Lucasfilms; 20th Century Fox/Paramount
The Star Wars movies are coming back in 3-D. Titanic's coming back in 3-D. Avatar's coming back in 3-D. Oh, wait—that last one already came back (and already was in 3-D).   
With the burst of rerelease news, we trust you understand our confusion—and suspicion. Are George Lucas and James Cameron really out to advance movie science—or they just out to suck more bucks from the wallets of us suckers?
BoxOffice.com editor Phil Contrino tried to calm our worst fear—the one about our wallet becoming lighter than it already is in order to make Lucas' and Cameron's fatter than they already are.
"I would have to say they're technology driven," Contrino says of the moguls. "I think in the case of Cameron, he's been pretty vocal about bad 3-D conversions, and I think there's a part of him to show how it's done right."
Indeed, Cameron has said as much, telling Vanity Fair of his plans for Titanic, "We really want it to be the gold standard of how you do a conversion."
So, OK, maybe Cameron has a legitimate mission. And, besides, he's got the makers of Piranha 3D to keep him honest.
But as for Lucas… Isn't he just out to stop the Harry Potter films from reigning as the world's top-grossing franchise? Or, more nefariously, isn't Mr. Here-Buy-My-Movie-Again just trying to, you know, MAKE US BUY HIS MOVIE AGAIN?!
As to the first question, the Wall Street Journal concludes Potter won't ever truly be able to overtake the sci-fi series, 3-D rereleases or no. 
As for the second question, yes, Lucas is trying to make us buy his movie(s) again. But Contrino agrees with the idea that as much as we can't help but comply with his wishes, Lucas can't help himself, either: The man's a tinkerer.
"Don't be surprised if he adds an extra scene in there at the last minute," Contrino told us.
(What, only one?)
Our conspiracy theory proved unfounded, and Lucas and Cameron proved perfectionists, we're left with but one more question:
When do advance tickets go on sale?