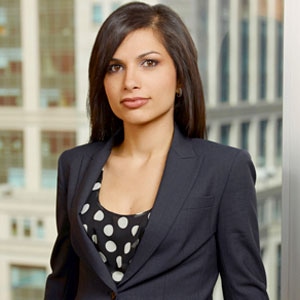 Virginia Sherwood/NBC
While she's still in the running for a gig with Donald Trump, one sexy contestant on The Apprentice has just lost her day job.
Mahsa Saeidi-Azcuy has quit her job in the Brooklyn District Attorney's Office after she ticked off her bosses by joining the show without telling them.
The comely 29-year-old submitted her walking papers on Monday and her last day is today. She began the $50,000 a year job in January, taking a two-month leave of absence to shoot the show, but failing to notify the higher-ups what she was doing.
"I want to emphasize had we known she was going on The Apprentice we would not have approved it," Jerry Schmetterer, spokesman for D.A. Charles J. Hynes, tells E! News. "We didn't think it was an appropriate program for a D.A. to be on, as it could create some conflicts in her work as a prosecutor. She submitted her resignation on Monday and we wish her luck with whatever she decides to do in the future."
Saeidi-Azcuy had handled misdemeanor prosecutions for the courts, but after the new season of the show kicked off last month, she was reassigned to the early case assessment bureau, an "out of trial zone." She was moved so she wouldn't run into potential jurors who could now recognize her—which she herself admitted was quickly becoming a problem.
"How can I be in a courtroom now, at least while the show is airing?" she admitted to the New York Law Journal this week.
At least she and her former employer agreed on one thing.
"People were not exactly happy," says one insider about the reality star failing to inform her coworkers what she was doing. "It wasn't a demotion, they just moved her where she wouldn't see people and cause a stir. Her line was that she didn't mind being moved, but she was unhappy."
Saeidi-Azcuy has survived the first three episodes of the series, and last night her team won the challenge of managing a doggy day-care center.
Her former bosses also want to make clear that she wasn't forced out, with Schmetterer saying the D.A. "didn't have any problems" when it came to her work.
It seems to be working for The Donald, who has brushed aside other contestants attacks on Saeidi-Azcuy, admiring her toughness because of her D.A. job—even though this season is made up mostly of candidates who have lost their jobs.
Not so say that she hasn't been struggling. According to her bio on NBC.com, Saeidi-Azcuy is the "sole breadwinner in her family" and dealing with financial pressures because of that.  
At least she hasn't heard those dreaded two words from Trump. Then she'll out her real job and her reality job. Ouch.