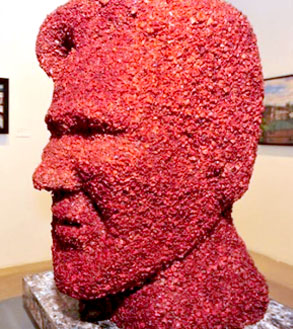 How would you like there to only be one degree of separation between you and Kevin Bacon?
Actually, make that you and a sculpture of Kevin Bacon made out of bacon and bacon bits.
Dubbed the "Bacon Kevin Bacon," the bust by artist Mike Lahue is being auctioned off on eBay with all proceeds going toward Ashley's Team, a nonprofit organization designed to bring joy to children with cancer.
Personally, we don't exactly see the actor's likeness here, but what say you: Does this make you want to crack open your wallet and make a bid to bring home the Bacon—or do you just get the urge to make a BLT?