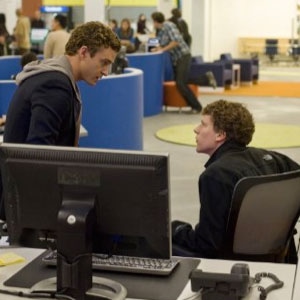 Merrick Morton/Columbia Tristar
Think the "Facebook movie" is gonna be about Farmville and SuperPokes? Think again. The Social Network (out today) takes on the controversial history of the popular website, from Harvard dorm to Silicon Valley empire. And don't worry, no technical knowledge is necessary to enjoy the flick that everybody—seriously, everybody—is talking about.
Want to join the conversation? E! News chatted up the cast, writer and director, and here are the five things you need to know about The Social Network:
1. It's your go-to guide for future A-listers: Sure, The Social Network features stars like Justin Timberlake, but its young cast is mostly made up of faces you've never seen before. Expect that to change soon. Andrew Garfield (who portrays the jilted Facebook cofounder Eduardo Saverin) will soon be exchanging pocket protectors for Spidey senses in the newest Spider-Man revamp, and actress Rooney Mara (playing Mark Zuckerberg's ex-girlfriend) recently beat out the likes of Scarlett Johansson, Natalie Portman and Ellen Page for the coveted role of Lisbeth Salander in the big-screen American adaptation of The Girl With the Dragon Tattoo.
There's a lot of Oscar buzz surrounding this group of Hollywood youngsters. Won't it feel good to say "I knew them when"?
2. A film featuring the Napster founder will have some music cred, right? The choral version of Radiohead's "Creep" in the trailer was only the beginning. The film's score was composed by none other than Nine Inch Nails frontman Trent Reznor, the world's foremost expert on adding tension and gravitas to scenes about internet coding.
3. The dialogue's explosive: Lovers of Aaron Sorkin's past work (The West Wing, Charlie Wilson's War) won't be disappointed. The scribe's signature snappy wordplay is prominent in The Social Network's script—even seven-time Grammy winner Mr. Timberlake remarked on how "musical" it is. (Sorkin also makes a small cameo in the film.)
Not to say it's too verbose for fans of action films. While there may not be any car chases or exploding buildings, Sorkin has some tricks for pumping up your adrenaline. "[Rather than sitting in a room talking], they're standing in a room talking," Sorkin told E! News recently. "That's how I infuse it with a Michael Bay-like intensity." Word bombs away!
4. Attention to detail: Director David Fincher (Fight Club, Se7en) wouldn't settle for anything half-assed. According to the cast, scenes were only considered complete after upwards of 99 takes, not that they're complaining. "Every actor I know would stay all day as long as there was film in the camera," said Jesse Eisenberg (who heads up the cast as Facebook founder and CEO Mark Zuckerberg).
Fincher's insistence on authenticity extended beyond the actors' performances, too. According to Sorkin, the biggest disagreement between the director and screenwriter boiled down to beverage choice. In an instance where Sorkin's script called for Zuckerberg to throw back orange juice and vodka, the director refused because the real-life Zuckerberg was actually drinking beer during the moment on which the scene was based.
5. Facebook doesn't want you to see it: Officially transcending his former status as "the poor man's Michael Cera," Eisenberg portrays the site's founder as a character so ruthless that Facebook refuses to recognize The Social Network's accuracy. According to Sorkin, the company would only endorse the film if Zuckerberg was presented as the clear-cut hero. "[Facebook said], 'We'll help out if you write fiction; we won't help out otherwise,'" the screenwriter revealed at a recent press conference.
So if you're still feeling mad at Facebook for its iffy privacy policy or personalized ad bars, seeing The Social Network may be one way to rebel without having to delete your account.