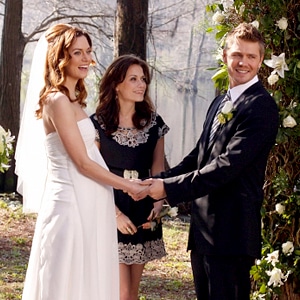 Fred Norris /The CW
Still nursing that Chad Michael Murray-shaped hole in your heart? Well, snap out of it, sistah!
We've got some scoop straight from a solid One Tree Hill source (as well as some insight on CMM and Hilarie Burton's impending return from series mastermind Mark Schwahn) that will cure those Lucas and Peyton-missing woes—mainly because you won't be missing them much longer. Wait, is that a squee we hear?
According to our source, the plan is for Chad and Hilarie to be back in Tree Hill this season. Nothing is set in stone just yet, but we're hearing that the original plan was to have the happy family (baby in tow) return for Brooke's (Sophia Bush) two-episode wedding, during OTH's original 13-episode order. But now that six additional scripts have been picked up, the Scott clan's return may happen later.
Mark recently revealed to us that everyone over on OTH is game for a Leyton return. "If schedules don't work [for Brooke's wedding], maybe we'll bring back Chad and Hilarie at a later date," he said. "If we get a full season maybe at the end of the journey, but those two characters are a big part of this world. We've talked about it, and there seems to be interest from all sides."
When we pried about bringing back Karen (Moira Kelly) and other faves, Mark simply stated: "We've never parted ways with anyone with any animosity. We've had such a large cast and we've been on for so long, but there's not one actor that is not invited back or unwilling to come back."
Don't miss One Tree Hill Tuesdays at 8 p.m. on the CW, and be sure to check back Monday for our exclusive coverage of the big OTH/Life Unexpected crossover event, also airing next Tuesday.