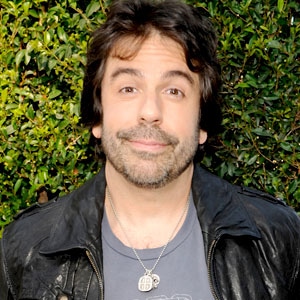 Frank Micelotta/Getty Images
Hold the laughter.
Greg Giraldo died at a New Jersey hospital Wednesday, four days after being admitted following an accidental overdose of prescription medication. He was 44.
The news was first reported by fellow comic and longtime friend Jim Norton, who tweeted a photo of the two and the message, "RIP Buddy."
"Greg Giraldo was a good guy," tweeted Lucky Louie star Louie C.K. "The kind of you're always glad to see. Also a funny comic and person. He died today. Goodbye friend.
"Belly-laugh hilarious, prolific, good & kind.  A thousand oys can't express" added Sarah Silverman a bit later.
A judge on NBC's Last Comic Standing, as well as a frequent guest on The Howard Stern Show and a fixture on the Comedy Central Roast circuit, Giraldo was actually a Columbia and Harvard Law School-educated attorney who strayed from his original path to school himself in the art of insult comedy.
And it worked for him.
"How cheesy is this dais? It's not a roast, it's a melt," he said during the recent David Hasselhoff roast.
"Have you ever not been drunk?" Giraldo asked the man of the hour. "You used to have a car that started when you talked to it, now you have a car that won't start when you blow into it."
Giraldo himself struggled with alcohol addiction over the years, ultimately revealing on the Stern show in September 2005 that he had been sober, minus one slip-up, for five months.
"The tragic news of Greg's passing hits us very, very hard. Greg has been a close member of the Comedy Central family for years, injecting his energy and wicked sense of humor into countless projects," the network said in a statement. "The comedy community lost a brother today. Our thoughts are with his family."
Added a rep for Last Comic Standing: "Greg was one of the most talented comedians of our time. He was truly brilliant. His work will surely continue to influence and inspire us. Our thoughts and prayers are with his family."
Giraldo also appeared on Late Night With Conan O'Brien and Jimmy Kimmel Live, and did regular stand-up at the famed Comedy Cellar and Gotham Comedy Club in New York. His Midlife Vices was voted the No. 1 comedy album of 2009 by Punchline magazine and he was a guest on The Marriage Ref last season.
"R.I.P. Greg Giraldo thanks for all the laughs- you will be missed," read a tweet from the Hollywood Improv.
"He was my friend," said Gotham Comedy Club owner Chris Mazzilli. "Great guy, super talented, will be dearly missed in the business both on and off stage. He was just a really good guy and I can't say that about everyone in the business, but he was a good person."
"Greg Giraldo. Love and peace. So f--king funny," offered Bob Saget.

In a 2007 interview with Cornell University's Daily Sun, Giraldo was asked why he abandoned the law to pursue comedy.
"Jesus," he deadpanned. "It's a very complex issue, but, you know, if you really read the New Testament close, I think you'd understand."
Giraldo, who was divorced, is survived by four children. Plans for a public memorial service are in the works.
(Originally published Sept. 29, 2010, at 2:42 p.m. PT)