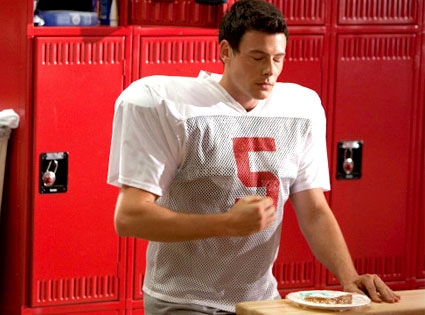 Adam Rose/FOX
No doubt many of us believe that Glee is a gift from God.
And now, our favorite musical high school television series really is gettin' some religion...
As my Twitter followers already know, I saw next week's episode, "Grilled Cheesus," last night. Not to give too much away, but this is one helluva deep and heavy episode.
With Kurt facing a family emergency, he and the rest of the gang ponder the question of God—what is he, who is he, etc.
Standout performances include Mercedes belting out Whitney Houston's "I Look to You," Rachel channeling Barbra Streisand (again!) with a moving cover of "Papa, Can You Hear Me?" from the movie Yentl, Puck strumming his guitar while singing Billy Joel's "Only the Good Die Young" and Kurt's get-yourself-a-tissue-cause-the-tears-will-be-flowing rendition of The Beatles' "I Want to Hold Your Hand."
And then there's the hat Kurt wears to Amber's church (fabulous!) and Finn's newfound love for Jesus (hillarious!).
So, as you continue to ride the musical adrenaline rush from last night's Britney Spears episode, you can also prepare yourself for some God, religion, spirituality and prayer.
Amen.
________
Make sure to click over to Watch With Kristin. She's going to have a bunch more scoop for ya about the heavenly episode.