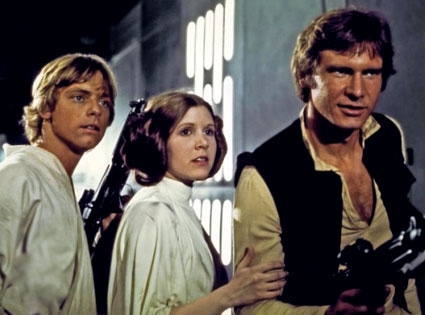 Lucasfilm
May the Force be with you—in three dimensions.
After years of rumors, Lucasfilm is finally hopping on the 3-D bandwagon and has announced plans to rerelease the original Star Wars trilogy and its prequels in the eye-popping format once a year beginning in 2012.
"There are few movies that lend themselves more perfectly to 3-D; from the Death Star trench run to the Tatooine Podrace, the Star Wars Saga has always delivered an entertainment experience that is completely immersive," reads a statement on starwars.com. "The cutting-edge conversion will take that immersion to the next thrilling level."
Head Jedi George Lucas has declared that Star Wars: Episode I—The Phantom Menace will kick things off in 2012, followed by Episode II the next year and so on. So if anyone in the universe doesn't know who Luke's father is and wants to preserve the surprise, you might be out of luck.
Either way, we can't wait for Han Solo to make the jump to light speed.
________
Did you hear the one about the Star Wars sitcom?