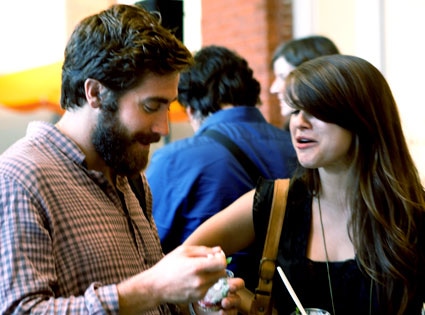 Courtesy of Veuve Clicquot
Calm down, Adam Levine, our headline is obviously not a sexual innuendo. Although, you will probably think it is, you overly hetero hothead!
Jake Gyllenhaal was in New York over the weekend and took his new scruff out on a date to Le Fooding, a culinary festival in the city.
Despite J.G.'s chin warmer (we like you clean, baby!), we're told Gyllenhaal was hardly hurting for female company as he cruised the festival solo.
"Jake chatted with a group of young women who were all looking enamored with the handsome actor," a witness at Le Fooding tells us. Gals galore, in fact, flirted all over our adorable Jakey. Only two questions come to mind: (1) Who can blame them? (2) Did Adam send an extra batch over?
While attempting to still enjoy flutes of Veuve Clicquot, Jake tried to blend in with the too-hip crowd and avoid photographers who followed him there hoping to get a shot.
With Gyllenhaal's new movie, Love and Other Drugs (which we hear is pretty fab), we got used to the ladies' man looking all business-man clean, not hipster wannabe. I mean, this look is so Jon Hamm meets James Franco meets Brad Pitt meets so three hunks ago.
Maybe, it's for a role, but are we alone here in thinking Jake shouldn't be hiding behind that whisker warehouse? Yuck, and such a waste!