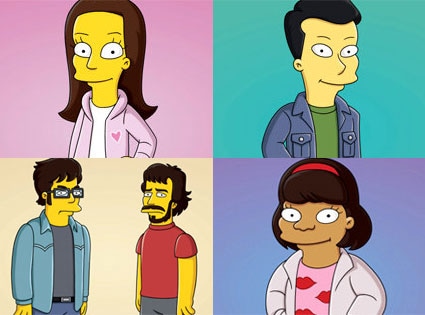 FOX
The Simpsons got a little Glee. Desperate Housewives got a new neighbor. Brothers and Sisters got a jump on things. 
A ratings rundown of Sunday's fall premieres, which scrambled against football (and also the return of Dexter?):
• Desperate Housewives (12.8 million estimated viewers, per prelim estimates): Vanessa Williams moved in; the soap moved on, and hooked enough to remain the night's most-watched comedy or drama series. 
• Family Guy (9.1 million for back-to-back episodes): The night's highest-rated comedy or drama among the demographically desirable. (Although, yes, like Housewives, it was down from last fall.)
• 60 Minutes (15.1 million), The Amazing Race (11.5 million) and Undercover Boss (11 million): Meet three shows that made gains against football and cable, otherwise known as CBS' upgraded Sunday lineup.
• Brothers and Sisters (9.6 million): The show's timeline jumped ahead; its audience jumped up. A good start for season five.
• The Simpsons (7.8 million): Glee's Lea Michele, Cory Monteith and Amber Riley lent their voices, but not that Glee ratings magic. (Sadly, the Flight of the Conchords guys, who also guest starred, didn't have any ratings magic to lend.) The comedy's 22nd season opener—22nd!—took the requisite hit opposite football. Still solid, though.
• Extreme Makeover: Home Edition (7.7 million): Housewives didn't get help from its lead-in.

• The Cleveland Show (6.6 million): Way, way down from last fall's series premiere, but on par with its overall season-one average.
• Dexter: Unfortunately, we have no idea yet. Same goes for the second episode of Boardwalk Empire.