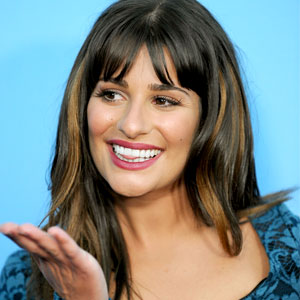 Kevin Winter/Getty Images
It's bound to happen—Justin Bieber on Glee, right?
Well, we haven't heard about any plans just yet, but…
Lea Michele admits she wouldn't mind Bieber Fever hitting McKinley High.
"I don't know about Justin Bieber coming on the show, but he would be awesome," she said at PETA's 30th anniversary gala this weekend in Hollywood. "But I will tell you this—breaking news from Lea Michele!—we have an Academy Award winner coming on Glee in the next few episodes that is not Justin Bieber."
Asked if she's confirming the exclusive scoop from our very own Watch With Kristin that Gwyneth Paltrow has signed on for a guest spot, Michele smiled, "I'm not saying anything."
But she will talk another Oscar-winning guest star: Javier Bardem. As of now, there's no duet between the two, but that doesn't mean a girl can't act pyscho dream. "I know the storyline and it's not with me," Michele said, but then laughed, "Maybe I'll be like, 'Don't I look like Penélope Cruz? Hey, it's me—I'm Penélope.' "
Make sure to come back here a little later on for more on the PETA gala and who some of your favorite celebs think should strip down for the animal rights group's iconic "I'd Rather Go Naked Than Wear Fur" campaign.
________
PHOTOS: Check out Lea Michele's many looks in her Fashion Spotlight.