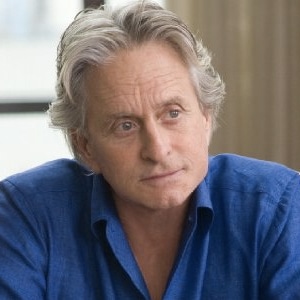 Twentieth Century Fox
Michael Douglas and Gordon Gekko are back on top.
Wall Street: Money Never Sleeps, featuring Douglas' return as the formerly "greed is good"-hyping Gekko, won the weekend box office with an estimated $19 million.
More results:
• Douglas, who promoted the so-called Wall Street 2 even as he began radiation treatment for Stage 4 throat cancer, has his first No. 1 opener since 2001's Don't Say a Word.
• Remarkably, the film is costar Shia LaBeouf's sixth No. 1 movie since just 2007.

• For what it's worth, the original Wall Street, which won Douglas his Best Actor Oscar, debuted at No. 3 with $4.1 million all the way back in 1987.
Other films:
• The debuting You Again (fifth place, $8.3 million) proved Betty White's powers are not unlimited.
• Kids are afraid of owls. That's one possible explanation as the $100 million, 3-D-priced Legend of the Guardians got off to a non-flying second-place start, with $16.3 million.
• Ben Affleck's The Town ($16 million), last weekend's No. 1, got bumped to third, but otherwise held great. It's at nearly $50 million overall now.
• The Virginity Hit ($300,000) wasn't one—a hit, that is. It "grossed" 429 bucks per screen. 
• In limited release, Ryan Reynolds' Buried ($104,500 at 11 theaters), and James Franco's Howl ($54,010 at six theaters) did very well.
• The education doc Waiting for Superman ($140,000 at four theaters) and Woody Allen's You Will Meet a Tall Dark Stranger ($163,474 at six theaters; $214,815 since opening Wednesday) did even better. And bigger. 
• Inception ($1.2 million; $287.7 million overall) logged its 11th weekend in the Top 10.
• Will Farrell's The Other Guys ($1 million; $117 million overall) exited the Top 10 after seven big weekends; Julia Roberts' Eat Pray Love ($700,000; $79 million) was out after six solid weekends; George Clooney's The American ($889,084; $34 million overall) was out after three quick, but budget-busting weekends.
Here's a complete look at the weekend's top-grossing films, per Friday-Sunday estimates compiled by Exhibitor Relations:
Wall Street: Money Never Sleeps, $19 million
Legend of the Guardians: The Owls of Ga'Hoole, $16.3 million
The Town, $16 million
Easy A, $10.7 million
You Again, $8.3 million
Devil, $6.5 million
Resident Evil: Afterlife, $4.9 million
Alpha and Omega, $4.7 million
Takers, $1.7 million
Inception, $1.2 million