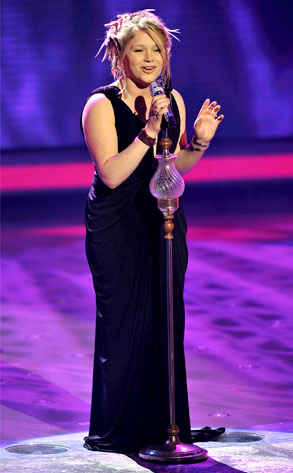 Michael Becker/AP IMAGES
Crystal Bowersox may have stayed a bridesmaid on American Idol, but her time is coming soon.
The folk-pop singer from Toledo, Ohio, is engaged to fellow musician Brian Walker and the couple are planning to tie the knot next month, E! News confirmed Friday.
Bowersox, who has a 1 1/2-year-old son, Tony, from a previous relationship, was a front-runner in the judges' eyes pretty much all season, but lost out to the brotherly Lee DeWyze for the top prize.
Right before one of her final performances, she revealed that she and her boyfriend at the time had split up, meaning she had been winning America's heart just as hers was breaking.
Karma isn't always a bitch, is it?
(Originally published Sept. 24, 2010, at 5:46 p.m. PT)