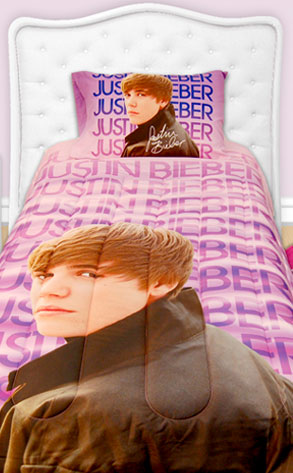 Lady Sandra Home Fashions Inc.
No, we don't mean it that way! Justin Bieber's just a kid, after all, so get your minds out of the gutter. (Kim and Chelsea, are you listening?)
Rather, we're simply referring to a new line of bedding from Lady Sandra Home Fashions that will feature the teen sensation's likeness on everything from sheets and pillowcases to comforters and throws. Other items plastered with J.B.'s mug will include shower curtains and beach towels.
"We have created different looks based on these images—we have the 'rock star' Justin, the 'laid back' Justin, and the 'dreamy' Justin—all while keeping his image true to his fans," said art director Maria De Stefano about the variety of products due out in November.
What better way to curl up with a good book this holiday season, right?