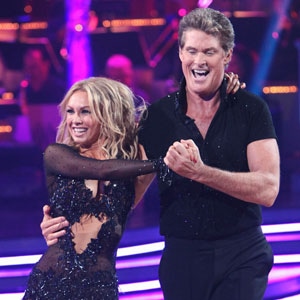 ABC/ADAM LARKEY
If you thought the Hoff looked a little, er, off during his short stint on Dancing With the Stars, you had reason to think so.
E! News has exclusively learned that David Hasselhoff underwent a minor surgical procedure Monday morning.
Hang on, it's not what you think...
The 58-year-old actor needed a quick trip to the doctor this week to have fluid drained from his knee and was wearing a brace during his performance, according to his manager, Larry Thompson.
He tells E! News that Hasselhoff had been getting cortisone injections in his chronically sore knee, which was ballooning during rehearsals for his DWTS debut. The swelling got so bad by Monday, Thompson says, that it necessitated going under the needle to remove the fluid.
"He's disappointed he didn't win," Thompson says, "but he's relieved he doesn't have to dance on it [anymore]."
And Hasselhoff isn't using his injury as "an excuse. It's the truth."
Regardless, the former Baywatch and Knight Rider hunk will be back in his comfort zone tonight, when he begins a four-night concert engagement at the Riverside Casino in Laughlin, Nev.
"It's easier to sing on his knee than to dance on it," Thompson says.
(Originally published Sept. 23, 2010, at 3:33 p.m. PT)